New Miniature Actuator Features Field Oriented Control
Press Release Summary: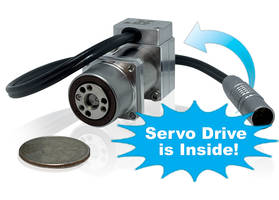 RSF-5 miniature actuator features single axis BLDC motor controller/driver with CAN & TTL-UART interface
Includes torque, velocity and position control, CSP, CSV, CST control modes 
Offered with pigtail connectors with 2 exit options and 14bit resolution motor encoder
---
Original Press Release:
Harmonic Drive LLC Reveals Miniature Actuator with Integrated Servo Drive
Beverly, MA, March 19, 2021--- Harmonic Drive LLC, the leader in high precision motion control announces a new RSF-5 miniature actuator with an integrated servo drive. This evolutionary product eliminates the need for an external drive and greatly simplifies cabling while retaining high-positional accuracy and torsional stiffness in a compact housing.
The RSF Mini and Supermini series is a family of compact actuators that deliver high torque with exceptional accuracy and repeatability. As part of the RSF Supermini family, an integrated servo drive version utilizing CANopen® communication is now available. Since it communicates via CANopen, only 4 conductors are needed: CANH, CANL, +24VDC, 0VDC. A single-turn 14bit (16384 cpr) gear output sensing encoder has been integrated.
Our USA-based engineering team incorporated more features and capabilities into this actuator while maintaining a compact size and low mass.
Key Features:
Actuator + Integrated Servo Drive utilizing CANopen communication conforming to DS402 and DS301
24VDC Nominal +7 to 30VDC Supply Voltage Range
Single Axis BLDC Motor Controller/Driver with CAN & TTL-UART Interface
Field Oriented Control
Single Cable with only 4 conductors needed: CANH, CANL, +24VDC, 0VDC
Zero Backlash
Pigtail Connectors with 2 exit options
14bit (16384 cpr) resolution motor encoder
Control Modes Including Torque, Velocity, and Position Control, CSP, CSV, CST
Harmonic Drive HDL Software for initial tuning, commissioning, and analysis
Homing modes include: single-ended, double-ended, double-ended with 16bit autoscale hardstop homing or teachable position
The RSF-5B-IDT Miniature actuator with an integrated servo drive is one of the latest products developed at Harmonic Drive LLC in Massachusetts, USA. The RSF joins the recently released family of FHA-Mini integrated actuators.
About Harmonic Drive LLC
Harmonic Drive, LLC engineers and manufactures precision servo actuators, gearheads and gear component sets. We work closely with academia, Fortune 500 and companies of all sizes to understand their application requirements and provide a standard or, in most cases, a custom-engineered solution to enable the success of their design project. The majority of the products sold by Harmonic Drive LLC are proudly made at our manufacturing facility in Massachusetts. The Harmonic Drive Group Companies are comprised of Harmonic Drive, LLC (United States), Harmonic Drive Systems, HARMONIC DRIVE LLC 42 Dunham Ridge • Beverly, MA 01915 • T: 978.532.1800 • F: 978.532.9406 www.harmonicdrive.net Inc. (Japan) and Harmonic Drive SE (Germany). We have shared core values, product designs and quality standards. State of the art manufacturing facilities in the US, Japan and Germany enables us to locally serve the needs of our global customers providing both custom-engineered solutions and standard products.
With over 50 years of experience, our expert engineering and production teams develop enabling technologies and products to meet the needs of an evolving motion control market. We are very proud of our outstanding company history. Our high-precision, zero-backlash Harmonic Drive® gears and Harmonic Planetary® gears have, and continue to play critical roles in robotics, spaceflight applications, semiconductor manufacturing equipment, factory automation equipment, medical diagnostics and surgical robotics. More information can be found by visiting the company's website at www.harmonicdrive.net.
Harmonic Drive LLC Contact:
Colleen Anderson
Marketing Manager
978-573-3427
marketing@harmonicdrive.net
More from Mechanical Power Transmission