New Mikron MILL P 500 U Machine is Equipped with Dual Drive Rotary Swivel Table
Press Release Summary: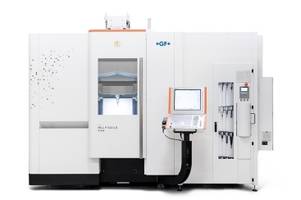 Mikron MILL P 500 U Machine comes with 36 kW Step-Tec spindle power with 600 kg and 707 mm diameter rotary tilting cable capacity. Unit delivers ±2µm/24h process reliability and features thermo-stable and symmetrical design. Suitable for aerospace, machinery, defense industries and general mechanic industries, the machine provides 365 days dynamic machining and 1.7 g acceleration.
---
Original Press Release:
Envision the Future with GF Machining Solutions at IMTS
LINCOLNSHIRE, Ill., June 15, 2018 – At IMTS 2018, GF Machining Solutions will provide a glimpse into the future of the manufacturing industry. The company will demonstrate a wide range of innovative high-speed milling, EDM, laser texturing, additive manufacturing and micromachining technologies at booth #338754 (South Hall), along with automation, tooling and connectivity solutions that address many of today's toughest manufacturing challenges.
Headlining the event will be the North American debut of the new Mikron MILL P 500 U high-performance milling solution. With its powerful and dynamic material removal capabilities and high stiffness, the Mikron MILL P 500 U takes precision and part surface finish to a new level. It also enables continuous machining of complex forms and tough materials while shortening process time. 
Manufacturers in the automotive, aerospace, medical, information and communications technology (ICT), electrical components (EC) and mold and die industries will also experience many other advanced solutions in GF Machining Solutions' booth.
The AgieCharmilles CUT P 350 wire-cutting EDM machine allows you to achieve greater accuracy, repeatability and finer surface finishes essential for your daily success.
The Liechti go-Mill 350 5-axis machining center provides the aerospace industry with the extreme precision needed for blade and blisk applications.
The AgieCharmilles LASER P 400 U all-in-one five-axis machine that incorporates both a fiber nanosecond laser and a femtosecond pulsed laser to allow texturing, marking and engraving of a surface with a single setup.
The Microlution ML-5, a compact, ultra-fast, ultra-precise five-axis laser micromachining platform that makes micron-scale machining economically and technically feasible.
Productivity-boosting tooling, automation and software solutions from GF Machining Solutions' System 3R brand including, the System 3R WPT1+ compact part changing robot and the System 3R TRANSFORMER scalable automation system with a six-axis FANUC robot.
Step-Tec's new HVC140 CoolCore Spindle HSK-E40 targeted to mold and die production and high-end parts production as well as its new HPC290 Spindle for heavy-duty milling of structural parts, blisks, fir-tree disks and blades for aerospace. 
rConnect, the central communications platform for the company's milling, EDM and laser texturing machines that offers the industry's most in-depth remote machine tool analysis – the cornerstone capability of tomorrow's smart factories.
In addition to the vast selection of technology innovations, visitors to GF Machining Solutions' booth will see the #78 Furniture Row Racing Toyota Camry driven by 2017 Monster Energy NASCAR Cup Series Champion Martin Truex Jr. Also, on display will be the TRD cutaway engine/powertrain display showing the complex movements of the championship winning engine produced by Toyota Racing Development and produced in a fully automated Mikron MILL line.
For updates about GF Machining Solutions activities at IMTS 2018, visit www.gfms.com/us.
About GF Machining Solutions
GF Machining Solutions is the world's leading provider of machines, diverse technical solutions and services not only to the tool and mold making industry but also to other manufacturers of precision components. The portfolio ranges from electrical discharge machines, high-speed and high-performance milling machines—including clamping and palletization systems, 3D laser surface texturing machines and machine tool spindles—to solutions for tooling and automation, services, spare parts, expendable parts, consumables and digitalization solutions. GF Machining Solutions is a globally acting Division of the Georg Fischer Group (Switzerland) and maintains a presence on 50 sites worldwide within its own organization. Its 3,255 employees generated sales of CHF 992 million in 2017. More information can be found at www.gfms.com.
MEDIA CONTACTS:
Karl Kleppek
Director of Business Development
GF Machining Solutions LLC
847.955.7164 | karl.kleppek@georgfischer.com
or
Chuck Bates
Director of Public Relations
dgs Marketing Engineers®
317.813.2230 | bates@dgsmarketing.com 
More from Sensors, Monitors & Transducers