New MGV520B Receiver Features 60 Watts with a 4-Channel Amplification
Press Release Summary: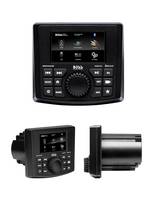 Available with multiple different audio playback options to choose
Compatible with audio output of iPod®/iPhone®, smartphones and MP3 players
Features front and rear camera input and front, rear and sub pre-amp outputs
---
Original Press Release:
BOSS Audio Systems Releases New Marine Gauge Receiver with 3" LCD Screen
This New Weatherproof Receiver Features a Built-In Amplifier and Bluetooth Audio Streaming
Oxnard, Calif., May 7, 2021 - BOSS Audio Systems, a leader and innovator in 12 Volt aftermarket audio and video products, is proud to announce the launch a brand new powersports/marine gauge receiver, MGV520B.
MGV520B is a great additional to any boat, ATV, or off-road vehicle. It features multiple different audio playback options for users to choose from: Bluetooth streaming, USB port with charging capabilities, AM/FM radio and an auxiliary input. The MGV520B features 60 Watts with a 4-channel amplification and IPX6 water resistance, as well as front and rear camera input and front, rear, and sub pre-amp outputs. This new receiver is perfect for anyone looking to upgrade their off-road vehicle or boat's sound system. The star button allows users to easily turn on or off accessories without having to add additional switches.
"Our new IPX6-rated MGV520B has all of the key features our partners have been looking for," said Jason Hannon, National Sales Manager. "From the oversized volume knob to the camera hot button, this unit is built to make your ride the best it can be whether on land or sea."
Features of the MGV520B include:
Compatible with Audio Output of iPod®/iPhone®, Smartphones, and MP3 Players
USB Port + Charging
Bluetooth Audio Streaming with Control of Music Apps
AM/FM Receiver
Conformal Coated PCB
Zero Current Draw Memory (Radio Preset Memory in Case of Battery Disconnect)
Switchable US & EU Tuner Frequencies
IPX6-Rated (Water Resistant/Dustproof)
Cutout Diameter: 3" (76mm)
Accessory Button – Turn On/Off Accessories (Lightbars, LED Whips, etc.)
60W x 4 Channel
Video Input
Front & Rear Camera Input
Front, Rear, Sub Pre-Amp Output
For more information, please visit www.bossaudio.com.
Pricing and Availability:
Priced at $249.99, the MGV520B is available now at bossaudio.com.
About BOSS Audio Systems:
Since 1987 BOSS has produced quality audio and video products that feature the latest technology while consistently delivering a clean and powerful sound. Our in-house acoustic, design, mechanical, and electronics engineers collaborate with a vast resources of global manufacturing partners, working as a team to infuse products with state-of-the-art features that have made each listening experience more enjoyable for over 30 years.
The company offers more than 400 car, marine, and Power Sports products that are sold in 130 countries, both in storefront retailers and online. Headquartered in Oxnard, CA, with offices in Shenzhen, China, BOSS leverages robust logistical and production capabilities to create optimized audio and video experiences as well as deliver innovative products.
All other brands, product names, company names, trademarks and service marks are the properties of their respective owners. All rights reserved.
Source: BOSS Audio Systems
Related