DC to DC Power Supplies (Converters)
New MGDD-80 Series DC/DC Converters are Protected with Zero to Full Load Regulation
Press Release Summary: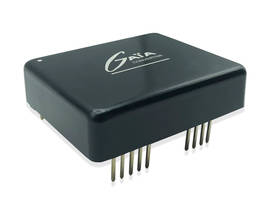 The High Rel MGDD-80 Series DC/DC Converters are available with 9-60V and 80V transient input voltage range. The units are packed in 2 x 1.6 in housing and are potted to rugged military and airborne environmental conditions. The devices can be operated in -55°C to +105°C temperature range. They come with trim, synchro and On/Off capability, adjustable UVLO and embedded EMI filter options.
---
Original Press Release:
New 80W, Ultra Wide Input Voltage Range DC-DC Converter from Gaia-Converter Simplifies Input Transient Protections
Gaia Converter extends its ultra wide input voltage range DC/DC Converters platform to the new High Rel MGDD-80 series, targeting Military and Airborne applications.
Uniquely wide, the MGDD-80 Series 9-60V & 80V transient input voltage range is ideal to comply with Mil-Std-1275, 704 or DO-160 standards without additional front end protection device. This unique performance is achieved thanks to Gaia's proprietary switching techniques while also keeping efficiency over 90%.
With 2 outputs (for parallel, serial or symmetrical operation) of 5V, 12V, 15V and 24V, they can cover a wide variety of needs such as single 5 to 48V output, +&- 15V or 2x24V outputs for example.
Packaged in a 2"x1.6" housing, the MGDD-80 Series have a wide temperature range of -55°C to +105°C and are potted to fit rugged Military and Airborne environmental conditions.
The units are full featured and protected with zero to full load regulation, Trim, Synchro & On/Off capability, adjustable UVLO, soft start, embedded EMI filter as well as over-current and over-temperature protection. They can also be synchronized and/or paralleled for added power or N+1 redundancy.
Designed for rugged applications, the MGDD-80 series do not use any optocoupler.
About GAIA Converter
Gaia Converter was created in the early 1990's. Since that time the company has developed one of the most comprehensive ranges of modular power components in the electronics market place. Gaia Converter also brought to the market its now well established concept of Modular Power Architecture simplifying the design of complex power supplies. With more than 5 000 standard power component references serving the industrial, transportation, aerospace and military markets, Gaia Converter is recognised as one of the world leaders of "power module" solutions.
For more information: contact: www.gaia-converter.com
More from Electrical Equipment & Systems