New MAXX Single-Piston Air Disc Brakes from Wabco Manage Taper Wear Compensation
Press Release Summary: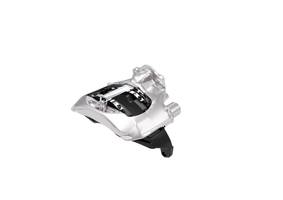 The MAXX™ Single-Piston Air Disc Brakes are available in MAXX 17, MAXX 19 to MAXX 22 and MAXX 22L models in 17.5 to 22.5 in. rim sizes. The units are suitable for trucks, buses and trailers and offer an average weight of 35 kg per ADB in a six-by-two wheel truck application. The disc brakes feature a low drag-torque design that increases the fuel efficiency.
---
Original Press Release:
WABCO Accelerates Global Industry Conversion to Advanced Single-Piston Air Disc Brake Technology; Unveils Complete Range of New Generation High-Performance MAXX Brakes at IAA Commercial Vehicles 2018
BELGIUM, Brussels, September 7, 2018 – WABCO Holdings Inc. (NYSE: WBC), a leading global supplier of technologies and services that improve the safety, efficiency and connectivity of commercial vehicles, has today announced its first simultaneous release of a complete new generation of high-performance single-piston air disc brakes (ADB) for trucks, buses and trailers world-wide. Accelerating the industry's conversion from conventional drum brakes to ADB, WABCO will showcase this pioneering suite of MAXX™ ADB technology at IAA Commercial Vehicles 2018 in Hanover, Germany.
With over six million single-piston ADB systems sold, including more than one million systems proven in the field for 30,000 Nm heavy-duty applications, WABCO is the well-established global market leader for this advanced technology. Designed to further increase its market penetration, WABCO's fifth generation range of single-piston ADB technology is suitable for all types of light, medium and heavy-duty vehicles. Superbly engineered, MAXX's new lighter weight, high-performance and low drag-torque design further boosts fuel efficiency and enables increased transport payloads.
"Powerfully demonstrating WABCO's global single-piston ADB leadership, this cutting-edge MAXX ADB range offers clear technology advantages and differentiating value over both drum brakes and dual-piston ADB technology, which is reflected in the significant volume of advance orders being received from original equipment manufacturers (OEMs) world-wide," said Jorge Solis, WABCO President, Truck, Bus and Car OEM Division. "WABCO's mastery of single-piston ADB technology has been refined over more than two decades and is fully trusted by our customers across the globe. Its world-class quality has been clearly demonstrated in more than six million wheel-ends, including for the most demanding heavy-duty truck applications. Exceeding the performance standards of other ADB systems on the market, WABCO's pioneering single-piston MAXX technology is the definitive industry benchmark that others are now seeking to emulate."
The latest MAXX design provides enhanced safety and braking efficiency levels, outperforming the requirements for all major vehicle applications. With 20 percent fewer parts than the current design, and over 40 percent fewer parts compared to other ADB brands, the platform offers superior reliability and an excellent weight-performance ratio. Delivering enhanced fuel efficiency, the compact design offers an outstanding average weight of 35 kilograms per ADB in a six-by-two wheel truck application – 12 kilograms less per truck than other manufacturers' European heavy-duty ADB systems.
Further demonstrating the advantages of WABCO's single-piston ADB technology over other ADB systems available on the market, MAXX intelligently manages taper wear compensation with a superior patented design suitable for all truck and trailer applications, including the most demanding heavy-duty truck requirements, helping extend brake pad life.
Available from 2019, WABCO's new MAXX modular platform is simultaneously available in 17.5 inch to 22.5 inch rim sizes. The portfolio spans from the MAXX 17 and MAXX 19 light and medium-duty brakes to MAXX 22 heavy-duty brakes, including MAXX 22L the industry's lightest rear-axle brake of its kind. It also includes the MAXXUSTM heavy-duty truck ADB, specifically tailored for the North American market.
"With many of the world's leading global OEMs increasingly converting to WABCO's MAXX ADB technology, including for 30,000 Nm heavy-duty applications, we see generally that the significant safety and cost benefits offered by WABCO's single-piston platform are helping to accelerate the industry's migration from dual-piston ADB and conventional drum brakes," added Solis.
WABCO's ADB range is manufactured in five world-class manufacturing facilities on four continents and is sold worldwide.
WABCO at IAA Commercial Vehicles 2018
WABCO will showcase its industry-leading technologies and services that improve the safety, efficiency and connectivity of commercial vehicles worldwide at IAA Commercial Vehicles 2018. This includes the latest technologies in braking, advanced driver assistance, fleet management solutions and aerodynamics.

Please find WABCO in Hall 16 at Booth B10
Deutsche Messe Exhibition Grounds, 30521 Hannover, Germany
Press Day: September 19, 2018
Public Days: September 20 - 27, 2018, 9 a.m. - 6 p.m.
For more information about WABCO's participation at IAA Commercial Vehicles 2018, please visit
WABCO Press Conference
WABCO's press conference will be held on September 19 from 1:45 to 2:10 PM CET in the Convention Center, Rooms 13 and 14.
WABCO's Live Demonstrations at 'New Mobility World'
WABCO will demonstrate daily its latest aerodynamics technologies for commercial vehicles, an advanced electronic security system, as well as its newest trailer cargo management solutions. Also on display during the demonstrations, WABCO will highlight its eTrailer technology concept showcasing the future of trailer electrification. Visit "New Mobility World Live" in the outdoor exhibition area, north of Hall 26.
WABCO's Speaker at 'New Mobility World' Forum
Forum Event: The New Era of Smart Data and Intelligent Telematics
Topic: Intelligent Vehicle Technologies to fight against Cargo Crime
Speaker: Christiaan Verschueren, WABCO Vice President, Trailer Systems
Date: September 27 
Time: 10:00 to 11:00 AM CET
Location: Pavilion 11, Section D
About WABCO
WABCO (NYSE: WBC) is a leading global supplier of technologies and services that improve the safety, efficiency and connectivity of commercial vehicles. Originating from the Westinghouse Air Brake Company founded nearly 150 years ago, WABCO continues to pioneer breakthrough innovations to enable autonomous driving in the commercial vehicle industry. Today, leading truck, bus and trailer brands worldwide rely on WABCO's differentiating technologies, including advanced driver assistance, braking, steering and stability control systems. Powered by its vision for accident-free driving and greener transportation solutions, WABCO is also at the forefront of advanced fleet management systems that contribute to commercial fleet efficiency. In 2017, WABCO reported sales of $3.3 billion and has nearly 15,000 employees in 40 countries. For more information, visit www.wabco-auto.com and, for WABCO's 2017 Annual Report, visit ar.wabco-auto.com.
WABCO global media contact
Nina Friedmann, +49 69 719 168 171, wabco@klenkhoursch.de
WABCO investors and analysts contact
Sean Deason, +1 248 270 9287, investorrelations@wabco-auto.com
More from Electrical Equipment & Systems