New M133WK Rugged Tablet is Ideal for Professional-Grade Applications
Press Release Summary: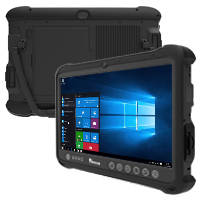 Powered by Intel quad-core Core Whiskey Lake series processor
Offers capacitive multi-touch with switchable modes
Features 13.3 in. display and is designed for operations in harshest environments
---
Original Press Release:
A Closer View of Winmate's New M133WK Ultra Rugged Tablet
The M133WK is the latest and most technologically advanced model in the lineup
28 May, 2020 - Winmate's latest addition to enterprise mobility product line, the M133WK Ultra Rugged Tablet, a powerful 13.3-inch tablet designed for operations in the harshest environments, has recently been reviewed by the professional online magazine RuggedPCreview.com. The M133WK is a powerful ergonomic mobile workstation that survives any environment and gets real work done.
Below are several excerpts on what the editor-in-chief Conrad H. Blickenstorfer has to say about this ultra rugged tablet computer. For the full detailed review including a technical breakdown of the M133WK, visit the RuggedPC Review.
Review extract:
Major tech and functionality upgrades for Winmate's feature-rich, full-size 13.3-inch rugged tablet for professional-grade Windows work out there in the field
(by Conrad H. Blickenstorfer, with photography by Carol Cotton)
The M133WK is the latest and most technologically advanced model in the lineup, and in this article we're presenting an in-depth analysis of Winmate's big 13.3-inch tablet with all the latest technology.
Fanless even with powerful Intel 8th generation Core processor
The big deal is that the latest version of the big M133 tablet is now powered by a genuine Intel quad-core Core processor, and one that, although it is still part of the 8th generation, is actually part of the refined and more advanced "Whiskey Lake" series (yes, Intel makes it quite confusing to keep up with their code names). In our testing of various high-end mobile computers, "Kaby Lake Refresh" had already proven that four cores are definitely better than two, but the i5-8265U in the M133WK is actually better than the i5-8250U we had hoped to find in its predecessor M133W.
Excellent display
In everyday use, the M133WK display is very good. It's sharp enough for almost any use although individual pixels, unlike in "retina" displays, are still visible. It's bright and vibrant. The viewing angle is indeed perfect. There are no color of contrast shifts. The is a slight darkening of the image when viewed from extreme angles.
Capacitive multi-touch with switchable modes
The Winmate M133WK uses projected capacitive multi-touch, the effortless touch technology the world has come to love and demand due to the effortless tapping, panning, zooming and pinching the technology allows. When it first appeared, capacitive touch was considered unsuitable for rugged devices because outdoors it can get wet and users may wear gloves, neither of which standard capacitive touch can handle. Eventually, Winmate decided to go with a projected capacitive multi-touch digitizer, but an advanced, modified one that addresses use with gloves and in the rain, as well as more precise stylus operation.
Ruggedness
Overall, there's no doubt that the Winmate M133WK is far tougher and far more durable than any consumer or even enterprise market tablet. It feels solid and substantial, the protective covers are both easy to open and to close, there's nothing to break off, and even the excellent optional stand/handle seems built to last forever.
Bottom line: Winmate M133WK
The Winmate M133WK is for those who need a robust, largely invulnerable tablet PC with superior processing power, excellent connectivity, and plenty enough display real estate to handle complex Microsoft Windows work and applications.
Offering vastly improved performance over earlier models, more than full-shift-plus battery life, remarkable ruggedness, a gratifyingly large and overall excellent hi-res display, the Winmate M133WK represents a compelling package for numerous applications that not only require Windows in the field, but also enough performance and screen real estate for professional-grade applications. -- Conrad H. Blickenstorfer, April 2020
he new M133WK Ultra Rugged Tablet is now available for order. Please contact Winmate's sales at sales@winmate.com.tw or NASales@winmate.com.tw (for North America region) for more details on pricing and availability.
Read the original article in RuggedPC Review https://www.ruggedpcreview.com/3_slates_winmate_m133wk.html
About Winmate
Winmate Inc. is a rugged computing and embedded solutions provider for industries operating in some of the most challenging environments. Founded in 1996 in Taipei, Taiwan where its headquarters, research and development facility, and production lines are located, today the company has offices and service centers worldwide. Winmate develops rugged industrial-grade computing solutions that advance the Industrial Internet-of-Things (IoT). Industrial display and panel PC, HMI, embedded systems, IoT gateways to rugged tablets and handheld devices for industries ranging from transportation and logistics to marine and military, railway, oil and gas, smart grid, healthcare, and field services. Winmate also provides professional services in customizing products and project management create a unique solution for specific customer's needs.
For more information, visit www.winmate.com or www.winmate-rugged.com (for North America area).
More from Electrical Equipment & Systems