New M12 Power Cables and Connectors Designed for Common 16-mm Panel Knockout
Press Release Summary: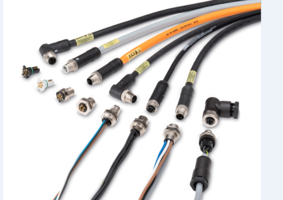 Handle currents up to 16 A or voltages up to 600 V AC/63 V DC
Ideal for power drive motors, fans, lighting and other distributed control boxes
Available in shielded and unshielded versions with five different codings T and L for DC and S, K and M for AC to prevent mismating
---
Original Press Release:
M12 Ready for Power Compact M12 Connectors and Cables for High-Power Applications
Middletown, Pa. – Phoenix Contact's new M12 Power cables and connectors make it easy to power drive motors, fans, lighting, and other distributed control boxes, even in tight spaces. The products, which are UL Listed and tested under UL 2237 (File E46873), can handle currents up to 16 A or voltages up to 600 V AC/63 V DC.
As today's devices become both smaller and more complex, they require more power than the original A-code M12 cables and connectors can provide. The large, bulky power cables typically used are difficult to install and maintain in these applications with limited space. Phoenix Contact helped to design and specify the new IEC 61076-2-111 standard, which cleared the way for high-power applications in the familiar M12 form factor.
The full M12 Power range includes cable assemblies, field-wireable connectors, and panel-mounted receptacles with a quick disconnect system. Because they are designed for a common 16-mm panel knockout, the new additions simplify panel upgrades. The M12 connectors come in both shielded and unshielded versions and are available in five different codings (T and L for DC, and S, K, and M for AC) to prevent mismating. Additionally, the 4-pin L-code version is now recommended by the Profibus and Profinet user organization for powering PROFINET devices.
Learn more about the M12 Power cables at www.phoenixcontact.com/M12power.
About Phoenix Contact
Phoenix Contact develops and manufactures industrial electrical and electronic technology products that power, protect, connect, and automate systems and equipment for a wide range of industries. Phoenix Contact GmbH & Co. KG, Blomberg, Germany, operates 50 international subsidiaries, including Phoenix Contact USA in Middletown, Pa.
Contact:
Molly McGowan
Media Services Specialist
mmcgowan@phoenixcontact.com
717-944-1300
Related