Vision and Imaging Sensors / Detectors
New Lumis EBSD Detector Features Large-Format CMOS Sensor for Higher Sample Throughput
Press Release Summary: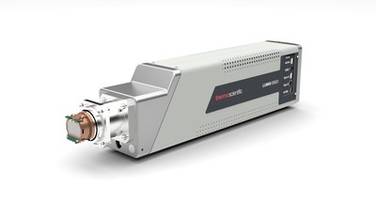 The Electron Backscatter Diffraction Detector is designed for identifying crystallographic phases and grain properties for monitoring structural transformations in samples in metallurgy and geophysics. The unit comes with advanced optics and a sensor that collects more than 2.2 megapixels. This detector is compatible with Pathfinder 2.0 microanalysis software and new indexing algorithms. It delivers acquisition of patterns at probe currents below 10 pA for samples sensitive to microscope beam currents.
---
Original Press Release:
New Electron Backscatter Diffraction (EBSD) Detector Features Advanced Sensors and Optics
Thermo Scientific Lumis EBSD detector enables fast and accurate crystallographic analysis of SEM samples for material scientists and metallurgists
BALTIMORE, Aug. 6, 2018 /PRNewswire/ -- Microscopy and Microanalysis 2018 — A new electron backscatter diffraction (EBSD) detector for electron microscopy is designed to help scientists, researchers and engineers quickly and accurately identify new materials and understand how the structure of a material affects its properties. The detector combines advanced optics with a new sensor that collects more than 2.2 megapixels, the largest number of pixels of any EBSD detector on the market.
The Thermo Scientific Lumis EBSD detector, which will make its debut at the Microscopy and Microanalysis 2018 meeting (booth 1112) at the Baltimore Convention Center, incorporates a large-format CMOS sensor to enable higher sample throughput, higher resolution measurements and more precise phase identification, as compared to Thermo Fisher Scientific's previous-generation CCD detectors. The CMOS sensor provides exceptional sensitivity at high frame rates due to a high dynamic range, increased quantum efficiency and improved noise management.
Scientists and researchers in metallurgy, geophysics and other disciplines can use the Lumis EBSD detector to identify crystallographic phases and grain properties, as well as to monitor structural transformations in samples. The new detector is also designed to help microscopists better understand failure mechanisms.
"The Lumis detector represents a step forward in EBSD for the growing number of scientists and analysts who are adding this technique to their electron microscopy portfolio," said Kevin Fairfax, business director for surface analysis and microanalysis, Thermo Fisher.
Additional benefits of the Lumis EBSD detector include:
Compatibility with Thermo Scientific Pathfinder 2.0 microanalysis software, including new indexing algorithms;
High-speed data collection at several thousand frames per second; and
Acquisition of patterns at probe currents below 10 pA for samples sensitive to microscope beam currents.
To learn more, please visit http://em-events.thermofisher.com/MM2018.
About Thermo Fisher Scientific 
Thermo Fisher Scientific Inc. is the world leader in serving science, with revenues of more than $20 billion and approximately 70,000 employees globally. Our mission is to enable our customers to make the world healthier, cleaner and safer. We help our customers accelerate life sciences research, solve complex analytical challenges, improve patient diagnostics, deliver medicines to market and increase laboratory productivity. Through our premier brands – Thermo Scientific, Applied Biosystems, Invitrogen, Fisher Scientific and Unity Lab Services – we offer an unmatched combination of innovative technologies, purchasing convenience and comprehensive services. For more information, please visit www.thermofisher.com.
Media Contact Information: 
Brian Lowe 
Greenough 
Boston, Mass., USA 
+1 617-275-6523 
blowe@greenough.biz
More from Electronic Components & Devices