New Linear Voice Coil Motor Delivers a Peak Force of 77.7 N
Press Release Summary: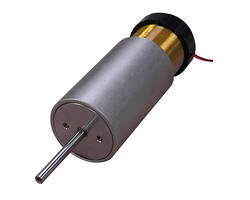 Moticont's GVCM-051-089-05S06 Linear Voice Coil Motor is offered with high speed internal shaft and bearings in 50.8 mm dia. x 88.9 mm long housing with threaded mounting holes. Unit features high force to size ratio with continuous force of 24.6 N. The motor features a stroke of 69.9 mm and ground shaft with diameter of 5.99 mm. Unit is suitable for applications such as medical devices, assembly equipment, antenna positioning, testing, sorting and optical focusing equipment.
---
Original Press Release:
New Voice Coil Motor with Internal Shaft and Bearing Features High Force to Size Ratio and 2.75 Inch Stroke Length!
Van Nuys, CA – High speed, high acceleration/deceleration, zero backlash, high accuracy, high repeatability, an internal shaft and bearing are features of Moticont's GVCM-051-089-05S06 Linear Voice Coil Motor. This compact, voice coil motor has a high force to size ratio with 5.5 lbs (24.6 N) continuous force and 17.5 lb (77.7 N) of peak force with a housing measuring just 2.000 in. (50.8 mm) dia. x 3.50 in. (88.9 mm) long. The stroke of the motor is 2.75 in. (69.9 mm) and the precision ground shaft with a diameter of 0.2360 (5.99 mm) has an internal thread, and the housing has threaded mounting holes for easy integration into current and future applications. 
This clean, quiet, efficient, low inertia, brushless actuator features high reliability and is ideal for: medical devices, assembly equipment, work holding and clamping, antenna positioning, testing, sorting, laser machining and drilling, wafer handling, optical focusing, dynamic vibration absorption, scanners and laser beam steering and filtering. The Moticont's GVCM-051-089-05S06 linear voice coil motor can also be ordered as a complete plug-and-play system including a controller.
Is there a need for a smaller or larger diameter motor, one with longer stroke, or more force? There are currently 7 series of Moticont's GVCM motors based on diameter of the motor, and models based on length of stroke and/or force to select from with additional motors being added to select from. To find the right motor for you application go to: http:/moticont.com/linear-motor-with-bearing.htm
About Moticont - Moticont is a manufacturer of motion control products. Our product line includes voice coil motors, three phase brushless motors and positioning stages and slides. 
Moticont is committed to exceeding Our customers' quality expectations and industry standards throughout the design, manufacturing, service and technical support phases. Our modern manufacturing facility, highly controlled processes, committed staff, and extensive testing complement our product design strengths. This enables us to supply our clients with specialized small orders to high volume just-in-time deliveries.
We offer an extensive line of standard products ready to be shipped immediately from stock, and when standard products are not quite right for an application, highly trained design engineers are always available to develop custom motion control products to fit the specific needs or our customers.
For additional information contact Sales Team at Moticont, 6901 Woodley Ave, Van Nuys, CA 91406; Toll Free: +1 (888) 785-1804, Tel: +1 (818) 785-1800, E-Mail moticont@moticont.com or visit the website at http://www.moticont.com
For additional information please contact:
US PR contact:
DW Motion Control Marketing
Technical Communication Contact
Don Wismann
505-234-1182
More from Fluid & Gas Flow Equipment