New Lightning Rail Mounted Laser Can be Fitted to Firearm with One Inch Accessory Rail Space
Press Release Summary: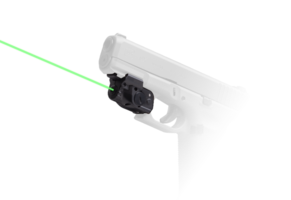 The Lightning Rail Mounted Laser is designed to withstand concealed carry and hard duty uses. The laser is offered with GripSense Activation technology that allows programming operating modes. The product is activated both by GripSense and controlled push button. It can be programmed easily for steady or high-vis pulsed beam and the GripSense technology senses the user's grip within the detection zone and activates the sight.
---
Original Press Release:
LaserMax Introduces the Lightning Rail Mounted Laser with GripSense™ Activation
January 18, 2019 - This week at SHOT Show LaserMax will introduce the most anticipated laser product of 2019. The "Lightning" is a universal fit rail mounted laser with GripSense™ Activation Technology. The new laser fits any firearm with at least 1" of accessory rail space and is designed to withstand rigors of everyday concealed carry and hard duty use.
GripSense represents the newest generation of laser activation technology by simplifying the activation process. The user simply grips the firearm, setting off a motion sensor once in the detection zone, which then activates the laser immediately and does not require the user to change their firing grip. Additionally, the Lightning with GripSense Activation Technology includes some significant innovations including a fully programmable operating mode, and up to twenty hours of continuous battery life- safeguarded from inadvertent drain by a ten-minute time out feature. The Lightning will come in Vivid Red or Daytime Green, green being the most visible color to the human eye.
Key Features include:
GripSense Activation senses the users grip within the detection zone and activates the sight
Dual activation capable with either GripSense or controlled push button
Does not alter your shooting grip
Easily programmable for steady or high-vis pulsed beam
External Battery access hatch with tool-less entry
Water resistant design
5 year warranty
MSRP:
GS-LTN-R (Red) - $229.99
GS-LTN-G (Green) - $169.99
 About Velocity Outdoor
Velocity Outdoor is a leader in the outdoor enthusiast market, featuring a diverse product lineup in the outdoor sporting goods industry with Crosman and Benjamin Airguns, Ravin Crossbows, CenterPoint Archery and Optics, LaserMax laser aiming devices, and GameFace Airsoft. Velocity Outdoor is a subsidiary of Compass Group Diversified Holdings, LLC (NYSE: CODI). For more information contact Chris Moon cmoon@velocity-outdoor.com or Ellie Neigebauer eneigebauer@velocity-outdoor.com