New Leak Detectors Conduct a Full Quality Control Test in Less than A Minute
Press Release Summary: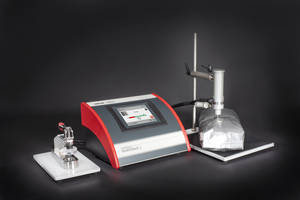 Available with headspace analyzer, leak detector, valve leak and release tests
Protects products and brand from damaging quality oversights
Ideal for quality testing of coffee packaging
---
Original Press Release:
Serve Your Best Coffee with Dansensor® MultiCheck® 2 from AMETEK Mocon
Roasted coffee is like a living organism – it is dynamic in its behavior and character.
Aroma, flavor and freshness are the cornerstones of any coffee drinking experience and, therefore, it is vitally important to protect these fleeting qualities – thereby also protecting the reputation of the coffee brand.
There are so many factors that can affect the customer experience, so it is essential that the process is carefully monitored, and the sealed packages are thoroughly tested!
On the one hand, coffee must be allowed to off-gas carbon dioxide, a byproduct of the roasting process. On the other hand, the beans or grounds must be protected from oxygen, so the oils do not become rancid.
Protective packaging
Many coffee producers use Modified Atmosphere Packaging (MAP) with a degassing valve to protect their product. Typically, they flush the packages with nitrogen before sealing the package, to remove residual oxygen to protect the quality and prolong the shelf life of the product.
However, as MAP relies on packages remaining tightly sealed, there are important quality control tests which must be performed regularly – namely headspace gas analysis, to ensure that the oxygen level is at a minimum, and leak testing, to ensure that packages are properly sealed.
Made for coffee
Like biscotti, the new Dansensor®MultiCheck® 2 is made to go with coffee. Each feature and component are specifically chosen and optimized to meet the unique requirements of quality testing coffee packaging.
For example, the filters which protect the instrument from coffee grounds and particles are easy to access and replace if needed. The oxygen sensor is not affected by the presence of oils, and the measuring parameters are optimized for whole bean and ground coffee.
Two (or three) tests in one
Operators or line managers can now complete twice the number of quality control tests in half the time with the DansensorMultiCheck 2.
"By integrating a headspace analyzer and a leak detector into one instrument, we have made it possible for operators to conduct a full quality control test in as little as one minute!" explains Global Product Manager, Dorthe Oldrup. "Now operators can focus on monitoring the packaging line and spend less time and energy on testing packages."
The optional valve test unit (VTU) increases the functionality by integrating valve leak and release tests into the test cycle. The results of all four tests are collected into one data record. This data can be stored on the instrument and exported via USB or an automatic data transfer can be set up to collect data in real time.
Max reliability equals Max uptime
"As with any production process, uptime equals profit. Therefore, we have focused on making the DansensorMultiCheck 2 as reliable and easy to use as possible," says Dorthe Oldrup.
She explains: "By providing quick, precise, and trustworthy quality control instruments, we help our customers maximize uptime on their packaging lines, protect their products and brand from damaging quality oversights, and minimize costly downtime and troubleshooting."
Visit www.ametekmocon.com/products/headspacemapgasanalyzers/multicheck-2 to learn more about the DansensorMultiCheck 2 headspace and leak tester, its features, and its technical specifications.
About MOCON Europe A/S
MOCON Europe A/S is the global provider of Dansensor® MAP quality control and quality assurance solutions mainly for the food packaging industry. See www.ametekmocon.com for more information.
About AMETEK MOCON
AMETEK MOCON is recognized as the global industry standard in quality gas permeation and package testing instruments. For over 55 years, the company has delivered the broadest range of solutions globally to provide products, services and technical expertise to best fit its customers' business needs. AMETEK MOCON's full array of analyzers are known as the most accurate and repeatable on the market that protect and enhance its customer' brand identity and product integrity. See www.ametekmocon.com for more information.
AMETEK MOCON is a business unit of the Process & Analytical Instruments division of AMETEK, Inc., a leading global manufacturer of electronic instruments and electromechanical devices with 2021 sales of $5.5 billion. See www.ametek.com for more information.
Media Contact:
Rafael Nisenbaum
+45 57 66 77 22
rafael.nisenbaum@ametek.com
Contact This Company Download Spec Sheet
More from Sensors, Monitors & Transducers