Gas and Chemical Sensors / Detectors
New Lead-free Galvanic Cell-type Oxygen Sensor KE-LF Series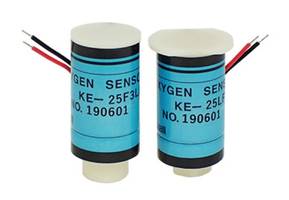 Figaro Engineering Inc. is pleased to announce its latest offering—lead-free galvanic cell-type oxygen sensor KE-LF series.
In addition to KE-series oxygen sensors, we have prepared new models of the lead-free KE-LF series oxygen sensor, the KE-25LF and KE-25F3LF. As with the KE-series, the KE-LF series are unique galvanic cell-type oxygen sensors developed by Maxell, Ltd. with long life expectancy, excellent chemical durability, and no influence from CO2.
Although label design and color are changed, the dimensions of the new sensors are identical to current KE-series oxygen sensors, ensuring easy on-site replacement of the current KE-series oxygen sensors.
For further details of this model, please refer to the attached data sheets. The new KE-LF series sensors are now available. Current KE-series sensors also remain available as long as RoHS regulations allow (current KE-series sensors using lead may not be used in some application categories in Annex I of the RoHS Directive after July 2021).
For your customer's evaluation, we can provide limited free samples on request under the condition of receiving customer feedback. The quantity is limited. Please let us know the required quantity and your customer names, application, and background of the request.