New LDTC LAB Instruments Provide High Temperature Stability for Stable Wavelength
Press Release Summary: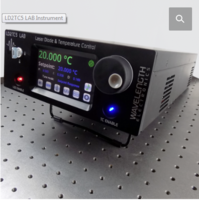 LD2TC5 LAB offers outputs up to 2 and 5 A for laser and thermoelectric respectively
LD5TC10 LAB output ranges up to 5 and 10 A
Features laser cumulative current noise of 7 μA RMS
---
Original Press Release:
LDTC Lab Series Instruments Improve Laser Diode System Performance
The LDTC LAB series instruments combine best-inclass low noise, high-end digital control laser diode driver technology with an IntelliTune® smart temperature controller. If you need stable wavelength, stable temperature, stable laser diode current or power, or low noise, these offer the best performance and value.
Two models are available, the LD2TC5 LAB and the LD5TC10 LAB. The LD2TC5 LAB outputs up to 2 and 5 A for the laser and thermoelectric, respectively. The LD5TC10 LAB outputs up to 5 and 10 A. Both models offer 10 V of laser compliance voltage and 15 V of thermoelectric compliance voltage.
The intuitive touchscreen interface and IntelliTune® PID control algorithm simplify precision operation.
Features
Low Noise for Narrow Linewidth
High Temperature Stability for Stable Wavelength
High Laser Current Stability for Repeatable Scans
Temperature stability better than 0.0009°C
Laser cumulative current noise of 7 μA RMS
Noise current density 30 nA/√Hz
CC mode bandwidth of 450 kHz
The touch-screen interface makes operation intuitive and simple.
Load failure protection
Over- and under-temperature limits on the load
Current/voltage limits for both TEC and laser
Automatic laser shutdown upon TEC error available
Supports A, B and C type lasers
Compatible with most temperature sensors
Contact:
Lisa Mueller
Wavelength Electronics Inc.
406-548-6662
lisa@teamwavelength.com
Contact This Company Download Spec Sheet
More from Electronic Components & Devices