New Laser Marking and Engraving Systems Available with Firearm Marking Models
Press Release Summary: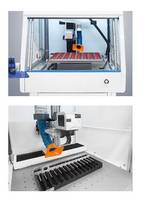 Comes with fiber, MOPA, UV, CO2, green, pico laser sources
Marking area from 4.33" wide X 4.33" long up to 18" wide X 36" long
Ideal for metals, plastics, organics, medical parts and firearms
---
Original Press Release:
Laser Marking XYZ for High Volume Arrays
Laser Americas introduces the Gantry Family and XL Family of laser marking and engraving systems. With several systems to choose from, the Gantry Family and XL Family are flexible and reliable solutions for industrial laser marking and etching. Ideal for production; systems are available with (X & Z) or (X, Y, Z) rotary axes, and 3D scanning heads. With a Gantry system marking areas of up to 18" X 36" or larger custom sizes are available. The firearm specialty system can provide Federally compliant marking of firearms for both identification and even elaborate decoration and weapon personalization over the entire weapon. The 3D scanning head option provides deep engraving over steep contours, text and decorative wrapping and camouflaging, of a complex surface over a 160° range without a rotary, and the rotary marks a full 360°.
The Gantry family and XL family have a number of options on laser sources with up to 200 Watts in power, and different types of laser wavelengths and characteristics. Additional sources are available ranging from 1064 nm Fibers, MOPA, UV, Green, CO2, and Pico laser sources. Some laser sources come with a more than a 3 year limited warranty. Equipped with the appropriate laser source the Gantry and XL families can mark metals, plastics, organics, medical parts, firearms, and most any object imaginable. Flexibility and reliability are the hallmarks of the Gantry family and XL family.
Laser Americas has over three decades of experience in laser cutting, marking, and welding systems throughout North America. We will make certain that the system a customer buys meets the customer's application and expectation. Laser Americas will always remain focused on our customers and point them in the right direction.
Features:
Models with Programmable X, Y, Z, and Rotary available
Multiple laser source options: Fiber, MOPA, UV, CO2, Green, Pico laser sources available
Over 3 year limited warranty available on some sources
Marking area from 4.33" wide X 4.33" long up to 18" wide X 36" long, depending on model
Wide variety of options and capabilities: Can add split gantry, rotary, 3D scan head, side door openings, etc.
Firearm marking models available
Marks and etches metals and plastics depending on the laser source
Laser Americas, LLC 508 989 5090 sales@laseramericas.com
More from Materials