New Laser Markable Labels from Brady are Suitable for Harshest Conditions
Press Release Summary: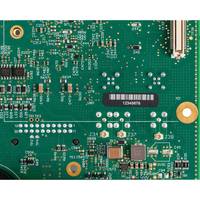 Produce high-resolution identification at small font sizes
Offers little-to-no debris during the engraving process
Available in black on white, white on black and anti-static options for identification needs
---
Original Press Release:
Brady Unveils New Laser Markable Materials at SMTA International Electronics Exhibition
Laser markable materials yield high-resolution identification in even the harshest conditions
MILWAUKEE, Wis. (September 20, 2019) — Brady (NYSE:BRC), a global leader in industrial and safety printing systems and solutions, announced the launch of a new line of Laser Markable Labels which will be on display at this year's Surface Mount Technology Association's (SMTA) International Electronics Exhibition in Rosemont, Ill. on September 24-25. 
"When it comes to PCB board manufacturing, traceability is extremely important," said Lori Aeschbacher, global product manager at Brady Corporation. "The harsh processes that the boards have to go through and small spaces available for identification reduce the identification options. These labels are a perfect fit for this application due to their ability to survive harsh conditions and produce high-resolutions at small font sizes."
The benefits of these labels don't end there. The manufacturing process of PCB boards also requires identification processes that don't yield debris to ensure that the boards remain in working condition. Unlike other laser-engravable solutions on the market, these labels produce little-to-no debris during the engraving process. And, with black on white, white on black and anti-static options available, users have options that best fit their identification needs.
Brady will also be showcasing their complete printing solutions for product identification at SMTA in booth 1232. These solutions include automation products, high-volume on-demand printers, a variety of label materials and software to automate processes.
For more information on Laser Markable Labels, visit BradyID.com.
For More Information
For the complete product offering from Brady, visit BradyID.com.
About Brady Corporation:
Brady Corporation is an international manufacturer and marketer of complete solutions that identify and protect people, products and places. Brady's products help customers increase safety, security, productivity and performance and include high-performance labels, signs, safety devices, printing systems and software. Founded in 1914, the Company has a diverse customer base in electronics, telecommunications, manufacturing, electrical, construction, medical, aerospace and a variety of other industries. Brady is headquartered in Milwaukee, Wisconsin and as of July 31, 2019, employed approximately 6,100 people in its worldwide businesses. Brady's fiscal 2019 sales were approximately $1.16 billion. Brady stock trades on the New York Stock Exchange under the symbol BRC. More information is available at www.bradycorp.com.
Media Contact:
Jackie Hahn, (414) 438-7024
Jackie_Hahn@bradycorp.com
Product Contact:
Lori Aeschbacher, (414) 228-3384
Lori_Aeschbacher@bradycorp.com
More from Chemicals & Gases