New LabVIEW Driver Available for Elsys TraNET Devices and TPCX/TPCE Transient Cards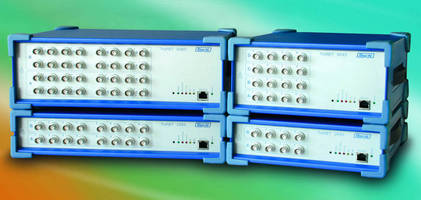 Expanded software driver compatibility simplifies development for data acquisition systems



Monroe, NY – Elsys Instruments, a leading manufacturer of custom and standard fast, high-precision data acquisition systems, has developed a new software driver that makes Elsys' entire range of highly accurate data acquisition products fully compatible with LabVIEW. 



Comprised of a set of virtual instruments (VIs), the LabVIEW driver supports all of the advanced data acquisition modes offered by Elsys. These modes include the unique Event Controlled Recording (ECR) mode, which allows targeted acquisition of cyclical or sporadic arising events with a guarantee of no dead time, as well as standard scope mode, multiblock mode and continuous acquisition modes.



The new driver maintains a common architecture and interface with LabVIEW, eliminating the need for code development.  This simplified programming structure makes it even easier to implement an Elsys system into a variety of measurement applications requiring high accuracy, high speed data acquisition. 



Industries that use Elsys' precision-based data acquisition solutions include ballistics and explosive tests, acoustic emissions, ultrasonic testing, structural health monitoring, power conversion and renewable power research as well as electrical traction, engine control and particle accelerator control.



Each VI corresponds to a specific programming operation such as the type of recording mode, starting and stopping of measurements or reading acquired data traces in addition to device configuration set-ups, including sensitivity range, record length, sampling rate and trigger settings.



The easy-to-use installer, that comes with the instrument driver, supports 32-bit and 64-bit Windows (XP or newer) and LabVIEW (2010 or newer).



The new driver complies with LabVIEW's universal requirements and recommendations for programming style, error handling, front panels, block diagrams, icons and online help. 



Several free, fully-functioning examples are available with the installer packages, covering all the recording modes and functionalities of Elsys' powerful data acquisition hardware.



For the free plug-and-play driver, complete with installer, manual and examples, visit http://www.elsys-instruments.com/labview or contact Klaas Vogel, Elsys Instruments, 234 Cromwell Hill Road, Monroe, NY 10950; email: klaas.vogel@elsys-instruments.com; phone: 845-238-3933.



Get our updates: http://www.linkedin.com/company/elsys-instruments-llc

Follow us: http://twitter.com/ElsysLLC

Become a fan: https://www.facebook.com/pages/Elsys-Instruments/121181424572939 



Reader Service Inquiries:  Please direct to Klaas Vogel, email: klaas.vogel@elsys-instruments.com.



Since 1980, Elsys Instruments has developed and manufactured highly precise and high resolution data acquisition equipment that focuses on fast sampling rates.  With instruments providing high precision at ±<0.1% or better, on range and off-set as well as LAN connectivity and long-term real-time data acquisition, Elsys is sought out by its customers in fields as diverse as the automotive and chemical industries, production test, power plants, calibration laboratories, universities and research laboratories.



More from Mounting & Attaching Products