New Krill Oil Soft Gels from Tru Body Wellness are Resistant to Oxidation
Press Release Summary: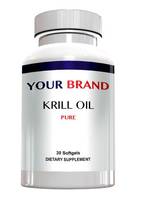 The Krill Oil Soft Gels consist of antioxidant, Astaxanthin that enables the krill to maintain stability. This oil is capable of absorbed by the body faster than fish oil. The Phospholipids in the krill act as a carrier of omega-3 fatty acid directly into cell membrane. These Phospholipids offer protection against free radicals and improves cellular functioning.
---
Original Press Release:
Tru Body Wellness is Pleased to Announce a New Product Offering, Krill Oil Soft gels!
Krill Oil soft gels are now available for private labeling. Don Wiencek, President of Tru Body Wellness, stated, "We are excited about offering Krill Oil. Everyone knows the benefits of Fish Oil, and Krill Oil offers these same benefits plus many more, including better absorption and antioxidants."
Benefits of Krill Oil include the following:
The antioxidant, Astaxanthin, helps the krill maintain its stability and resistance to oxidation. Taking krill oil alleviates a key concern of fish oil users; that the fish oil will become rancid and lose potency or become ineffective. *
Krill isn't prone to heavy metal contamination like fish oil is because they don't feed on fish, a typical source of contamination in fish oil products. *
Krill Oil is capable of being absorbed by the body faster than fish oil. This allows the body to better utilize the supplement. *
Phospholipids are contained in krill, providing an ideal carrier of omega-3 fatty acid directly into cell membranes. Phospholipids protect from free radicals and strengthens cellular function. *
Customers can private label this supplement starting at 100 bottles.
To learn more, visit www.TruBodyWellness.com, call 877-419-4004 or email Sales@TruBodywellness.com.
About Tru Body Wellness
Tru Body Wellness specializes in private labeling supplements and our minimum orders of our standard products starting around 100 bottles. We can design your label for free. We can also manufacture custom formulas starting at an industry low 500 bottles for capsules and 1500 bottles for tablets, liquids and powders. For our stock product, once your label is designed, we can typically ship from stock within 3 business days. All our products are made in FDA inspected and cGMP certified facilities in the US.
More from Materials