New KGEA-AF-Series Magnetic Emitter Antennas Meet AEC-Q200 Specific Automotive Quality Standards
Press Release Summary: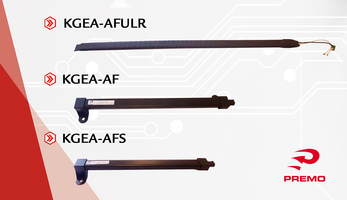 The KGEA-AF-Series Magnetic Emitter Antennas are offered in 20 KHz to 134 KHz range with values ranging from 100 uH to 500 uH. The units are manufactured with the combination of Solid Echelons, Polymer Bonded magnetics and high Magnetic Permeability nanowires. The antennas meet waterproof standards from IP54 to IP69K. They are suitable for use in general RFID-LF access, RTLS applications and Car2Car communications.
---
Original Press Release:
PREMO Launches the KGEA-AF (LR&ULR)-Series of Magnetic Emitter Antennas to Answer the Need of Increase Magnetic Performance in Its Long-Range and Ultra-Long-Range Versions for Automotive applications (Car Side)
This innovation count with several patents (for product design and process manufacturing) and has been designed for access (passive keyless entry), general RFID-LF access, RTLS applications and Car2Car communications.
PREMO, the leading manufacturer of inductive components, has announced the KGEA-AF-Series of long-range and ultra-long-range flexible antennas, providing up to 5 time more H-field than standard antennas up to 2.5 times the mid-range one.
Most of the LF antennas in the market has a length 70-80mm for standard range, 150-170mm for mid-range, 250-350mm for long-range and 500-700mm for Ultra-Long-Range (AlmaTM core).
A research team led by expert in Magnetism PhDr Manuel Vazquez Head of the Group on "Nano-Magnetism and Magnetization Processes" in Madrid (CSIC: Superior Council of Scientific Investigations), join with UC3M (Carlos III Madrid University) and Málaga PREMO Innovation Center, have developed a Technology intended for LF emitter antennas in the range of 20KHz to 134KHz that overcome the limits of conventional ferrite cores that are fragile and brittle and cannot be manufactured reliably in long forms. After 3 years of work and more than 1M€ in private and public funding, CDTI: Center for Industrial Technological Development) the team is announcing the first industrial solutions of the new tech.
Premo Nanotech Magnetic Materials allow Long Flexible Emitter Antennae for Automotive Electronics.
The Alma™ Core Technology for Car Keyless Entry Systems saves installation, cables, electronic drivers and reduce component count with savings per vehicle over 100 USD. The product is designed to be flexible and unbreakable thanks to a combination of Solid Echelons, Polymer Bonded magnetics and High Magnetic Permeability nanowires.
These flexible core antennas typically meet the AEC-Q200 (specific automotive quality standard) and waterproof specs from IP54 to IP69K.
A wide range of values in catalogue of KGEA-AF-Series and under demand, from 100uH to 500uH, for 20kHz, 125kHz and 134.2kHz (with or without capacitor and resistors inside, under demand).
Samples available in our web page and ready to deliver by end of Q4.
About PREMO
PREMO is a Spain-based company engaged in the development, manufacture, and sale of electronic components with special focus on the key enabling technologies of the 4th Industrial Revolution: IoT, M2M, VR, Connected and Electric Vehicles.
Our product portfolio includes RFID antennas (worldwide leader), AR/ VR Motion Tracking Sensors, power transformers, inductors & chokes, current sensors, EMC filters, and PLC components. In addition to our broad range of standard components, off-the-shelf products, PREMO also designs custom solutions to fit customer requirements, based on the latest technologies to help your systems be more efficient.
Over 1600 employees with 5 design centers and 3 production locations and an extensive sales network let PREMO have a global presence in more than 36 countries to meet our customers specific needs.
56 years being a preferred supplier because of our strong commitment to business excellence, engineering support, reliable delivery and the quality of our products. www.grupopremo.com
Press Contact:
Rocío Arrupe
PREMO S.A.
Severo Ochoa, 47
Parque Tecnológico de Andalucía
29590 Campanillas
Málaga, Spain
T.: +34 951 231 320 - Ext 6
F.: +34 951 231 321
More from Food Processing & Preparation