New Kellenberger 100 and 1000 Grinding Systems Come with OPC UA Communication Gateways
Press Release Summary: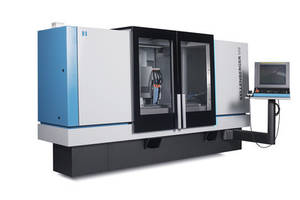 Hardinge's Kellenberger 100 and 1000 CNC Grinding Systems increase precision and productivity of machining applications. The Kellenberger® 100 is equipped with a tandem grinding wheelhead in a collision free construction with a motor spindle. It features Fanuc 31i CNC controls with 19 in. touchscreen. The Kellenberger® 1000 comes with a reinforced machine bed and can work with workpieces of up to 300 kg and allows internal grinding wheel diameter up to 125 mm.
---
Original Press Release:
Hardinge Introduces New Kellenberger 100 And 1000 Grinding Solutions
BERWYN, Pa., Sept. 4, 2018 /PRNewswire/ -- Hardinge Inc., the leading international provider of advanced metal-cutting tool solutions and accessories, introduces the new Kellenberger® 100 and Kellenberger® 1000 Universal CNC grinding systems. These innovative systems improve the precision and productivity for the most demanding range of machining applications. The updated functional and user friendly design elements on both of these systems allow you to have the control and performance you require.
"These systems were made to satisfy the requirements of our customers. We took their feedback and from the rigid base to the hydrostatic guides on all axis, all the way to the new user interface on our controls we delivered two systems that will meet the most demanding of those requirements, and if Industry 4.0 is an important topic for you these machines are equipped with OPC UA communication gateways for secure external access, the machines are well prepared for the future." Helmut Gaisberger, Global Product Manager Grinding.
Kellenberger® 100
The Kellenberger® 100 is a new high-performance, economical grinder for any of your universal grinding requirements. The machine is the combination of capabilities that are found in the VISTA and VITA machines as well as the Tschudin® T25, and the Jones & Shipman® Ultramat CNC and Ultragrind 1000. It delivers the most diverse of configuration options for the widest range of grinding operations for customers looking to optimize production costs for the machine and ensure an excellent price/performance ratio. Customers can now get:
New compact wheelhead design - The Kellenberger® 100 has a new tandem grinding wheelhead in compact and collision free construction with the motor spindle. Reinforced casing for larger grinding wheel diameters for internal grinding. Choice of 10 wheelhead variations for the optimum layout of the machine based on the components to be processed.
Increased productivity with higher grinding wheel drive power.
Enhancing performance

Realize new dressing concept by extended travel of X and Z Axis 
Greater Profile Accuracy with Redesigned Z-guideways.
High precision B-axis with direct drive and absolute measuring system
Increased accuracy for noncircular grinding with C-axis with direct drive.

The user-friendly and ergonomic design of the Kellenberger 100 machines with a new, intuitive operator guidance system on a touchscreen panel. The machines are equipped with the latest Fanuc 31i CNC controls with 19" touchscreen, The User Interface is available in two different versions: BLUE Solution - the intuitive touch programming and RED Solution - the extended graphic programming.
Kellenberger® 1000
The new Kellenberger® 1000 is the next generation of the VARIA universal cylindrical grinding machine that has been the standard in high precision grinding for over 20 years. The Kellenberger 1000 offers advanced technology, design and features for high-precision production of prototypes and small and medium-size series. Customer can now get:
Genuine precision and productivity with hydrostatics – The Kellenberger 1000 features the newest generation of hydrostatic guideways for superb precision and productivity. They provide excellent damping, stick-slip-free operation, high rigidity, and a constant machine temperature, resulting in outstanding surface quality and more reliability without any friction loss and wear.
Best in class for Taper-, Thread-, Profile- and out of Round Grinding
Supreme Stability and Rigidity with Larger Workspace - In the new Kellenberger 1000, the machine table has been considerably extended, so it allows unmatched, optimal positioning of the grinding wheel and a larger travel distance, ready for a wider variety of machining options and application-specific configurations. With the reinforced machine bed, Kellenberger 1000 can now work with workpieces of up to 300 kg and larger heights of and distances between centers, offering consistently better performance.
Flexibility with Unique machine concept - The Kellenberger 1000 is available with distances between centers of either 1000 or 1600 millimeters, and heights of centers of either 200/250 or 300 mm, as required. Travel on the X axis and Z axis has been extended. More than 30 wheelhead variations with external and internal grinding spindles permit an array of machining possibilities, and the right application-specific configuration at all times.
More Operator Friendly and Reliable with Functional Machine Casing - The increased sheet metal thickness means even more process reliability, allowing larger internal grinding wheel diameter of up to 125mm.
Compact and Maintenance-Friendly Elements such as the power supply, electrical cabinet, and a central connection point for lubricating coolant, water cooling system, and compressed air were all integrated into the casing. The Kellenberger® 1000 is known for the compactness of the space it requires for setup.
Optimized Energy Management Performance-optimized central cooling system for minimized thermal drift with the result in minor deviation on the workpiece
To learn more about these products, please visit https://www.hardinge.com/product-brand/kellenberger/. If you will be at IMTS, please come see the new Kellenberger 100 for yourself at our South Hall Booth, #338738. IMTS is held in Chicago, IL at the McCormick Place from September 10th - 15th.
About Hardinge Inc. 
Hardinge, Inc. is the trusted global provider of high precision, computer-controlled machine tool solutions for critical, hard-to-machine metal parts and advanced workholding accessories. With over 125 years of experience, Hardinge offers the largest variety of metal-cutting turning machines, grinding machines, machining centers, collets, chucks, index fixtures, repair parts, standard and specialty workholding devices, and other machine tool accessories. Hardinge's solutions can be found in a broad base of industries including aerospace, agricultural, automotive, construction, consumer products, defense, energy, medical, technology, and transportation. Headquartered in Berwyn, PA, the company designs, manufactures, and distributes machine tools in over 65 countries across North America, Europe, and Asia. For more information about Hardinge, please visit us at www.hardinge.com.
CONTACT: For Media Inquiries, Dana Harris, Red Javelin, 978.440.8392, dana@redjavelin.com; For Company Inquiries, Allan Snider, Hardinge, 610.249.9918, allan.snider@hardinge.com, Web Site: https://www.hardinge.com
Related