New Joral J1 Line Shafted Rotary Encoders are Rated to MIL-STD 202 for Shock and Vibration
Press Release Summary: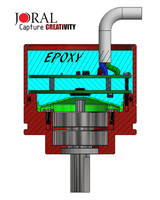 Joral J1 Line Shafted Rotary Encoders are available with CAN J1939, Voltage, PWM, Analog and Quadrature outputs. Units are designed to perform rotary motion feedback for applications ranging from directional drilling rigs to timber harvesters. The encoders offer customizable connector options and come with IP69 encapsulation. Units come with absolute multi-turn capability.
---
Original Press Release:
Joral Develops Total Encapsulation Process: IP69k Electrical Protection on J1 Line Shafted Rotary Encoders
Mukwonago, WI – May 2018 – Joral LLC has developed a new protection method, for total encapsulation, of the J1 Line's electronic components. Specially crafted to ensure total protection from extreme temperature fluctuation, intense machine vibration, and pressure wash down, the Joral J1 Line Shafted Rotary Encoders perform rotary motion feedback for industry, ranging from directional drilling rigs to timber harvesters.
The new IP69k electrical protection and encapsulation process, released in the J1 Line Shafted Rotary Encoder, is designed to match the newly released ProxEncoder® Non-contact Rotary Encoder. The Joral encoders in the J1 Line are available in J1939, Voltage, and Quadrature outputs, as well as many more.
Prototyped on a FDM 3D printer, the new encapsulation method creates a fully protected electronics package, which creates an environmental barrier between the J1 Line Encoder's shaft and bearing package. The new IP69k encapsulation is available immediately as a standard production item.
Visit www.JoralLLC.com to view the full J1 Line with customizable connections, various output options, and to learn more about this unique offering from Joral, LLC.
Highlights of the J1 Line shafted encoder:
Totally encapsulated electronics (IP69k)
Shaft seal available for IP68 housing protection (IP67 standard)
Absolute multi-turn capable 
Rated MIL-STD 202 for shock and vibration
From the manufacturer of the PE18 ProxEncoder®
Available outputs: Quadrature, CAN J1939, PWM, Analog, and more
Customizable connector options available
Media Contacts
Company: Katie Klepper, Product Marketing Specialist | 262.378.5506 | kklepper@joralllc.com
Agency: Julie Eleftheriou, Longren & Parks | 952.913.3065 | julie@longrenparks.com
About Joral LLC
Founded in 2005, Joral LLC is the culmination of a long history of development in encoder and sensor technology by companies including Joral Devices, Joral Computer Services, and GS Global Resources. Today, Joral develops and manufactures harsh-duty electronic devices for mobile hydraulics and industrial applications. Joral has redefined the "rugged duty" position sensor by introducing protection methods such as total electronic package encapsulation, LED status indicators, and patented true non-contact coupling.
For more information, call 262.378.5500, visit www.joralllc.com, or email sales@joralllc.com.
More from Construction Equipment and Supplies