New Jaw Bungee from Whitecap Industries Comes with Dual Hold Cord Retention
Press Release Summary: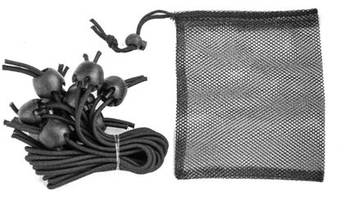 The Jaw Bungee is offered with a jaw ball, dual hole tension adjust and a 12 in. premium plastic elastic cord. The product is suitable for boating, outdoors and home. It allows user to connect multiple jaw bungees, bundle multiple items and tighten the cord around objects.
---
Original Press Release:
Whitecap Industries Introduces the Jaw Bungee with Unlimited Uses for Boating, Outdoor, Home and More
Piscataway, NJ - Whitecap Industries, a leading provider of hardware products for the Marine Industry introduces the Jaw Bungee with unlimited uses for Boating, Outdoor, Home and more.
The Bungee has a no slip "Jaw Ball," Dual Hole Tension Adjust, 12" Premium Elastic Cord, Dual Hole Cord Retention. You can connect multiple Jaw Bungees, bundle multiple items, tighten the cord around objects, and secures tarps.
Please visit our website for more information. www.whitecapindustries.net/products/jaw-bungee-jb-100716b
The Jaw Bungee can be purchased in Packs of 10.
Whitecap Industries
888-944-8322
Christopher Tomao
More from Materials