New Ixxat Smart Grid Gateways With 4-port Ethernet Switching Capabilities
Press Release Summary: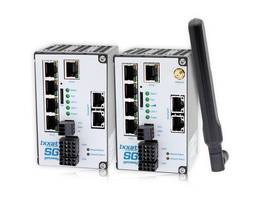 4G CAT1 connections offer 10 Mbps downstream and 5 Mbps upstream communication with low latency
Securely connect networks through several independent interfaces on data level with multi-port versions
Ideal for simple digitalization of small, outlying energy distribution stations
---
Original Press Release:
New Ixxat Smart Grid Gateways for IEC 61850 and IEC 60870 with LTE Support
Ixxat® SG-gateways enable communication between industrial automation devices and energy networks. HMS Networks is now extending the Ixxat SG-gateway line with new versions including a 4G/LTE modem for cellular connectivity as well as 4-port Ethernet switching capabilities, giving users additional energy networking options for substations and power plants.
For several energy networking use cases – mini-RTU, gateway and remote access
Ixxat SG-gateways are used in many areas of energy automation, e.g. in modern pow-er plants and in largescale energy consumer installations for retrofitting systems and digitalizing substations. The SG-gateways are used for different purposes: They con-nect energy control networks with industrial automation devices, enable remote access, act as gateways between different protocols and thus enable the development of state-of-the-art IIoT applications.
Fast cellular communication for increased data availability and insight
With the new, integrated 4G modem and the extensive protocol support, the Ixxat SG-gateways are ideal for easy digitalization of small, outlying energy distribution stations. The 4G CAT1 connection offers 10 Mbps downstream and 5 Mbps upstream commu-nication with low latency, high network coverage and a universal data channel – inde-pendent of wired Ethernet, DSL or fiber optics. 4G can be used as either the main or backup communication channel. All supported IP-based protocols – including IEC 61850, IEC 60870-5-104, MQTT and OPC-UA – can be transmitted over the wireless link. The 4G modem can also be used as an independent communication channel for e.g. device maintenance and alarm messages (SMS or MQTT), enables straight-forward implementation of predictive and remote maintenance applications.
New, versatile 4-port switch versions introduced
In addition to the 4G option, new multi-port versions of the Ixxat SG gateways are now available, able to securely connect networks through several independent interfaces on data level. This simplifies data exchange between energy automation networks and industrial Ethernet systems (such as PROFINET or EtherNet/IP) as well as connection to IoT-systems and cloud applications. Each network segment is connected separately and can still exchange data with all other segments. Thanks to integrated security func-tions, including a firewall, the overall system is easy to design and maintain, as well as being considerably more robust and secure against unauthorized access, compared to the use of conventional 1/2 gateway and switch combinations.
About HMS Networks
HMS Networks is the leading independent supplier of solutions for industrial communication and the Industrial Internet of Things. HMS develops and manufactures products under the Anybus, Ewon, Intesis and Ixxat brands. Development and manufacturing take place at the headquarters in Halmstad, and in Ravensburg, Nivelles, Igualada, Wetzlar and Buchen. Local sales and support are handled by branch offices in Germany, USA, Japan, China, Singapore, Italy, France, Spain, the Netherlands, India, UK, Sweden, South Korea and UAE, as well as through a worldwide network of distributors and partners. HMS employs over 600 people and reported sales of SEK 1,519 million in 2019. HMS is listed on the NASDAQ OMX in Stockholm, category Mid Cap, Information Technology.
HMS Industrial Networks Inc.
120 Bedford Center Road, Ste 102
Bedford, NH 03110
USA
Phone: 1-603-471-0800
Fax: +1-603-471-0800 ext. 101
sales@ixxat.com
HMS Industrial Networks
Stationsgatan 37, Box 4126
300 04 Halmstad, Sweden
Press Contact:
Anders Hansson
Phone: +4635172914
ahn@hms.se
More from Thermal & Heating Equipment