New ITAR-free HPA 4 Series with Simplified Automatic Level Control
Press Release Summary: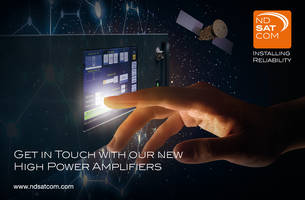 Features simple touchscreen, intuitive WebUI, graphics and event logging
Offers reduced intermodulation, reduced gain variation and halved warm-up time
Upgrades with linearizer and block up-converter (BUC) possible
---
Original Press Release:
ND SATCOM's New Addition to The TWTA Sphere: HPA 4-Series
German-made high power amplifiers (HPAs) featuring the smallest indoor chassis on the market
Friedrichshafen, Germany; 3 February 2021 – Another dimension of ND SATCOM's satellite communications is unveiled: the 4th generation of HPAs in the TWT realm. Engineered and made in Germany, the ITAR-free HPA 4xxx series exemplifies next-gen excellence with these highlights:
Improved Usability 

New easy touchscreen
New intuitive WebUI
New graphics and event logging
Simplified Automatic Level Control (ALC)

Enhanced Performance 

Reduced intermodulation
Reduced gain variation
Halved warm-up time

Easy to maintain

Firmware upgrade via LAN
Upgrades with Linearizer and block up-converter (BUC) possible (Retro-Fit)

Form Fit & Function

M&C and dimensions identical to HPA 2xxx & 3xxx series
"ND SATCOM's quality engineering and flexible design enable customers from broadcast to medicine to choose among multiple off-the-shelf HPA variants – different power classes, frequency bands, chassis types, and BUC and Linearizer options – with quick delivery time," said Michael Weixler, Director of Product Management & Training. "We have also refined size and performance, offering the smallest indoor chassis (3U in all power classes), 3dB less fan noise and 10% less power consumption. Both form and function are critical to how we innovate and deliver on our customer promise of installing reliability."
ND SATCOM has a longstanding relationship with the German company WORK Microwave and offers WORK's superior quality L-band BUC as an option. For customers who opt for ND SATCOM's Linearizer, it provides a larger operating power range with typically 1dB less back-off required. These additions further enhance overall power and performance.
ND SATCOM is reshaping the TWTA sphere with its 4th generation HPAs. Dive into a new dimension of satellite communication with ND SATCOM.
ND SatCom GmbH
With more than 30 years of experience in satellite communications, ND SATCOM is the world's leading supplier of satellite-based communications systems and ground stations and supports customers with critical operations anywhere in the world.
Customers in more than 130 countries have chosen ND SATCOM as a reliable source for high quality and secure solutions that include turnkey and customized systems. The company's innovative technologies are used globally by governments, the military, television and radio broadcasting, telecommunications and enterprises.
The company's core product SKYWAN enables secure, reliable and fast communications for thousands of users daily. With the SKYWAN network solution, ND SATCOM connects the IT world with satellite communication and offers fully integrated and optimised solutions for the worldwide availability of online applications.
Contact Product Management:
Michael Weixler, Director Product Management & Training, ND SATCOM
E-Mail: michael.weixler@ndsatcom.com
Phone: +49 7545 939 8198
Contact Press:
Arzu Evlek, Director Marketing & Communication, ND SATCOM
E-Mail: arzu.evlek@ndsatcom.com
Phone: +49 7545 939 8751
More from Communication Systems & Equipment