New Ironman Grinders Feature QUICK-R Instant Release Function
Press Release Summary: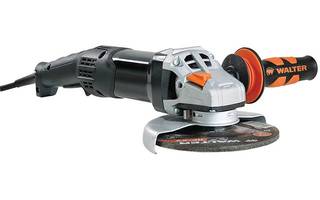 Walter's Ironman™ and Ironman™ PS Grinders are offered with ergonomic rat-tail design with 6 in. wheel capacity and 1,750 watts of power. Unit's QUICK-R™ and Walter Stabilizer™ reduce vibration and increases productivity of abrasives up to 30%. The grinders come with deadman switch and mechanical brake stop the grinding wheels within 2 seconds of trigger relieving. Units are suitable for aerospace, military, naval, energy and transportation industries.
---
Original Press Release:
Walter Surface Technologies' New Heavy-Duty Ironman™ Grinders Built for the Toughest Jobs, Exceptional Performance
Windsor, CT, May 24th, 2018 – Walter Surface Technologies, the global industry leader in surface treatment technologies, has introduced the industry's hardest working heavy-duty grinders: the Ironman™ and Ironman™ PS.
Designed for strenuous, prolonged use, the Ironman™ and Ironman™ PS feature an ergonomic rat-tail design, perfect balance, 1,750 watts of power, 6-inch wheel capacity, a QUICK-R™ instant release function, and the Walter Stabilizer™ that reduces vibration and extends the life and productivity of abrasives by up to 30%.
The Ironman™ PS offers the same durability and high performance as the Ironman™, but with added safety features. Its "deadman" switch and mechanical brake stop grinding wheels from turning within 2 seconds of relieving the trigger, and cutting wheels within 1.5 seconds, thus minimizing workplace risks and offering users even greater safety.
"The Ironman™ and Ironman™ PS grinders are our most powerful, most productive heavy-duty grinders with 6" wheel capacity," says Ryan Boyd, Product Manager of Tooling and Power Tools at Walter Surface Technologies. "Their physical design, power, and cutting-edge features make them the perfect tool for the most demanding jobs—and the best heavy-duty grinders in the marketplace."
Built to meet the large-scale needs and exacting standards of the aerospace, military, naval, energy, transportation, and other industries and sectors, Ironman™ heavy-duty grinders can be used in a wide range of grinding and cutting operations.
The Ironman™ and Ironman™ PS are now available. For more information, visit walter.com.
About Walter Surface Technologies
Walter Surface Technologies provides innovative solutions for the global metal working industry. From high performance abrasives, power tools and tooling to industrial parts washing systems, cleaners, degreasers and lubricants Walter focuses on helping its customers work better. Founded in 1952, the company is established in 7 countries throughout North America, South America and Europe. International headquarters is in Montreal and U.S. headquarters is located in Windsor, Connecticut. Key certification and awards include ISO 9001: 2008, Wall Street Journal Award; Deutscher Material Preiz; American Eagle Award; CleanTech Cleaning Technology Award.
Press Contact
Walter Surface Technologies
Jonathan Rinaldi
Marketing Communication Specialist
jrinaldi@walter.com
More from Communication Systems & Equipment