New Ionic Contamination Test System Expands PFC Flexible Circuits QA Lab Capabilities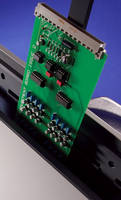 Scarborough, Ontario, Canada - PFC Flexible Circuits Ltd. has announced the addition of a CM-33, Ionic Contamination Tester (cleanliness test) to the company's QA Laboratory. PFC Flex selected GEN3 Systems CM-33 Ionic test balance technology based upon many factors including its user-friendly automated features, high accuracy, ease of maintenance, and overall cost.

In making the announcement, Steve Kelly, CEO, said, "While we have always had the capability of measuring and monitoring ionic cleanliness, it was time to upgrade and modernize our capabilities. The CM-33 was the logical choice due to its high precision and reliability, ease of use, and speedy results."

The GEN3 Systems CM-33 System is an ionic contamination test, usually referred to as cleanliness testing, system capable of testing in accordance with IPC/ANSI-J-STD001D and UK DEF-STD and other international specifications. Ionic contaminants can cause reliability problems such as shorting between conductors by electrolytic dendrite growth.

PFC Flexible Circuits Limited provides extensive engineering experience, flexible circuit fabrication including; single-sided, double- sided, multilayer flex and rigid flex up to 18 layers. Fine Line (under 2 mil lines and spaces) along with Impedance control circuits are also available. PFC also provides a complete electronic assembly service, with through hole, surface mount, sub-assembly and box build. For more information about PFC Flexible Circuits, contact PFC Flexible Circuits LLC, 11 Canadian Rd Suite 7, Scarborough, Ontario, Canada M1R 5G1; Tel. Canada Office: 416 750 8433, US Office: 978 261 5484, e-mail: sales@pfcflex.com; www.pfcflex.com.

About Ascentech LLC, N. American Gen3 Systems Distributor

Ascentech, LLC managing members Randy Allinson and Gregory Alexander formed the company in 2000 to provide products to enhance productivity, quality and reliability to the electronic assembly and PCB fabrication industries. To learn more about the company visit www.ascentechllc.com. For sales and technical information, contact Randy Allinson, Ascentech LLC, 127 Goose Hill Rd., Chester, CT, 06412: Tel 860-526-8903, E-mail: rallinson@snet.net.

More from Non-Industrial Products