New Injection Moldable Metal Alloys from Cool Polymers Successfully Demo'd at Milacron Function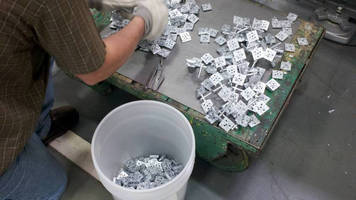 Offers OEMs and Custom Molders a New Way to Expand Services and Product Lines

BATAVIA, OH - Cool Polymers, Inc. recently highlighted the molding of Xyloy(TM) injection moldable metal alloys on Milacron Roboshot all-electric plastic injection molding machines. The demonstration took place at an open house sponsored by Milacron, a leading manufacturer of injection molding machines. Hundreds of engineers and other plastics industry personnel witnessed the special demonstration.

Cool Polymers, Inc., of North Kingstown, RI, whose legacy has been earned by their ability to develop heat dissipative polymers, recently introduced their newest offering, Xyloy injection moldable metal alloys. This special Milacron open house gave the firm an opportunity to demonstrate the material's special processing abilities.

The Cool Polymers new Xyloy injection moldable metal alloys allow the design freedom and parts consolidation of plastics with the strength, stiffness and conductivity of metals. Xyloy materials enable metal parts to be molded on injection molding machines that are outfitted with a standard Xyloy package that includes a dedicated screw and barrel.

Kevin McCullough, General Manager at Cool Polymers, notes, "This special function at Milacron gave us the opportunity to demonstrate to an audience comprised of OEM and custom molders and engineers alternative ways to expand their services and product lines by molding metal alloys on their presses. While the molding performed exceptionally well on the Milacron Roboshot machines, Xyloy injection moldable metal alloys can also be molded on nearly all other injection molding machines. We are most grateful to Milacon for the use of their machines during this open house and to Harbec, Inc. of Ontario, NY, for the part design and tooling to demonstrate the molding of EDM electrode components."

Steve Allen, he Milacron Director of Product Development and Support for North American Injection Molding, adds, "Milacron was pleased to have Cool Polymers demonstrate their Xyloy injection moldable metal alloy on our 165-ton all-electric Roboshot molding machine. We see this new alloy as an opportunity for molders to expand into areas that plastics currently do not support. Together, we demonstrated that this new metal alloy offers an additional class of materials that can be processed on conventional molding machines. For this reason, we too are excited to partner with Cool Polymers to provide an all-electric turnkey package utilizing the Xyloy technology and make it available to Milacron customers."

Harbec Pioneers Use of Xyloy Technology
According to Cool Polymer representatives, one of the most recent molders to experience the advantages of the Xyloy injection moldable metal alloys is materials is Harbec, Inc., a molder in Ontario, New York.

The firm's Tooling Manager, Paul Scheible is quoted as saying, "Harbec, like Milacron, is enthused about partnering with Cool Polymers to demonstrate our combined capabilities and resources. The collaboration enabled our teams to demonstrate this innovative technology to several hundred plastics professionals during this open house. Harbec is committed to harnessing the energy and enthusiasm resulting from the open house demonstration and directing it into successful customer partnership that advance the science of injection molding metals."

Cool Polymers is the originator and leading producer of CoolPoly® thermally conductive plastics and Xyloy(TM) injection moldable metal alloys and has seen market demand grow at consistently high levels the past few years. CoolPoly and Xyloy grades provide engineered material solutions electronics, LED lighting, health care, automotive, aerospace, consumer and industrial markets.

For more information on products and services including Xyloy injection moldable metal alloys, contact: Cool Polymers, Inc., 51 Circuit Dr., North Kingstown, RI 02852. Tel: 401-667-7830. Fax: 401-667-7831. Email: sales@coolpolymers.com Web: www.coolpolymers.com.

For more information on Roboshot all-electric presses for molding Xyloy injection moldable metal alloys, contact: Sales Department, Milacron Plastics Machinery, 4165 Half Acre Road, Batavia, OH 45103. Tel: 513-536-2000. Email: info@milacron.com. Web: milacron.com/plastics.com.

For more information on molding parts in Xyloy injection moldable metal alloys and plastic part molding services, contact: Sales Department, Harbec, Inc., 369 Route 104, Ontario, NY 14519. Email: info@harbec.com. Web: www.harbec.com.


More from Electronic Components & Devices