New InfraSteel Slip Liner Offers a Life of 50-100 Years
Press Release Summary: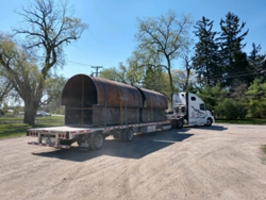 InfraSteel Slip Liner allows farm animals to pass under the railroad beds. The slip liner increases the structural integrity of the cattle passes. The carbon steel liner reduces the burden to maintain cattle passages under railroad tracks.
---
Original Press Release:
Infrasteel, the Nation's Leading Culvert Rehabilitation Company, Announces a New Steel Slip Liner Product Line for Railroad Cattle Passes
BIRMINGHAM, ALA. (PRWEB) MAY 29, 2018
InfraSteel, the nation's leading culvert rehabilitation company, announces a new steel slip liner product line for railroad cattle passes. Since the 1860s, railroad companies installed cattle passes to allow farm animals to pass under railroad beds. According to InfraSteel executive Cullom Walker, "We are proud to announce the installation of a railroad cattle pass in Illinois this summer. There are thousands of cow passes under railroad tracks across the country. The burden to maintain these passages is high since cattle herds need access to land across railroad tracks each year. InfraSteel developed a low maintenance cattle pass carbon steel slip liner to improve the structural integrity of these cattle passes. Since the InfraSteel slip liners have a life expectancy of 50 - 100 years, this reduces the maintenance for these structures for railroad companies."
Precision Pipe and Products has developed InfraSteel to rehabilitate failing culverts and bridges. InfraSteel provides a new life expectancy of 50 to 100 years and is a cost-effective and environmentally friendly solution for the repair of failing structures without traffic interruption. For more information about InfraSteel's culvert rehabilitation solutions, contact Cullom Walker at (205) 613-0072 or visit the InfraSteel website at http://www.InfraSteel.com.
Contact Information
Cullom Walker
InfraSteel
http://https://www.infrasteel.com/
+1 (205) 613-0072
John Downs
Downs Marketing Associates, LLC
303-748-5851
More from Fasteners & Hardware