New Industrial Scale Instrument with Single Function key
Press Release Summary: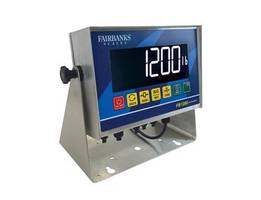 Accumulates gross weight, net weight and piece count values over repeated weighments
Comes with oversized buttons for power, units, zero, B/G net, tare and print
Designed for basic applications using analog bench scales, floor scales, tank assemblies or livestock scales
---
Original Press Release:
Fairbanks Scales Announces New FB1200 Industrial Scale Instrument
Offering the flexibility and features required by modern weighing operations!
Overland Park, KS – Fairbanks Scales Inc., the oldest scale company in the U.S. and the world's leader in weighing equipment, announces its new FB1200 Industrial Scale Instrument, designed for basic applications using analog bench scales, floor scales, tank assemblies, or livestock scales.
Fairbanks Scales FB1200 is a flexible, economical solution for basic industrial weighing applications. With a range of features and multiple communication options, the FB1200 can fulfill a variety of customer needs at a highly competitive price. Among general purpose instruments on today's market, the FB1200 is unique in that it has several "beyond basic" functions and features, including digital inputs and outputs that simplify its integration with other aspects of an operation.
The simple, seven-key interface has oversized buttons for Power, Units, Zero, B/G Net, Tare, and Print as well as a single function key to access the more advanced features of the instrument. In addition, while many industrial applications do not require legal-for-trade status from their weighing equipment, the FB1200 is approved for 10,000 divisions by both NTEP and Measurement Canada (MC). This allows the FB1200 to provide legal-for-trade weights when the situation requires it.
In addition to simple weighing operations, the FB1200 has feature sets to address the following types of operation:
Piece Counting – Enter the piece count of a sample through the front panel and use the FB1200 to calculate the count of any size sample.
Accumulation – Accumulate gross weight, net weight, and piece count values over repeated weighments.
Checkweighing – Three-zone checkweighing can be used to confirm a weight is within an acceptable range. The FB1200 can communicate the active zone through the front panel or as a digital output.
Livestock Weighing – Use the livestock filter to calculate the weight of a single animal or a group.
Peak Hold – Hold the highest stable or unstable weight, even when the weight is removed.
The economical price point and the comprehensive feature set will allow the FB1200 to carve out market space on the lower end of industrial applications. The FB1200 expands the ability to address customer needs by including digital inputs and outputs, multiple weighing intervals, while significantly decreasing the time needed to install and service industrial instruments.
About Fairbanks Scales
Founded in 1830, Fairbanks Scales has become the leader in the industrial weighing market by creating and manufacturing an unrivaled range of weighing equipment solutions. From bench, parcel, counting, floor, and truck scales to animal, railroad track, and a full range of specialty scales, Fairbanks Scales has a reputation for being the most agile and attentive industrial weighing partner in the business. Headquartered in Overland Park, KS, the company is also uniquely positioned to provide services for non-weighing products based on its nationwide contingent of technicians who can provide preventive maintenance and consistent, reliable service. To request more information or to find the Fairbanks representative or authorized distributor nearest you, please call (800) 451-4107, or visit www.fairbanks.com.
If it has to be right…It has to be Fairbanks!
Contact:
Ingrid Adel
Fairbanks Scales
+1-816-448-4288
iadel@fairbanks.com
More from Materials