New Indexed 360deg Optical Thread Gage Communicates with Statistical Process Control
Press Release Summary: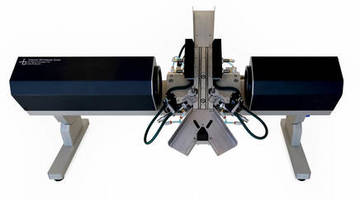 Automatically accept and reject bins at a rate of 2.5 seconds per part
Provides 100% inspection for out of tolerance dimensions, threads, and chips
Measures flat bottomed up to 1.5" and outer diameters up to 2"
---
Original Press Release:
Indexed 360° Sorter: High Speed High Accuracy
Longmeadow, MA – Six Sigma Concepts, LLC has developed a new optical thread gage that measures turned part's external features accurately and objectively; providing 100% inspection for out of tolerance dimensions, threads, and chips. The machine ensures that the part's exterior is 100% inspected by taking a series of measurements as the part is rotated. The gravity fed part transport that the system provides is robust and easily adjustable to maximize inspection rate. The system measures flat bottomed turned parts with overall lengths up to 1.5", outer diameters up to 2". To be measured, external part features must be at least 0.5" away radially from the center axis.
In operation, the parts are fed to a shoot which automatically singulates, measures, and sorts them. A high-speed camera captures a series of images of each part as it rotates over 360 degrees and measures pre-programmed features. Each measurement per image is accurate to within 0.0001". Based on the measurements, the machine automatically sorts to ACCEPT and REJECT bins at a typical rate of 2.5 seconds per part.
The Indexed 360° Sorter is able to record measurement data and is capable of communicating with statistical process control. Adding to the sorter's versatility, the sorter can be programmed for multiple parts and part orientations. A pair of adjustment knobs controls the system orientation, which adjust to optimize feed rate and maintain part stability throughout transport. Complete software package is included.
For further information, contact:
Justin St. James
Six Sigma Concepts, LLC
246 Merriweather Drive
Longmeadow, MA 01106
Tel: (413) 935 - 1885
E-mail: sales@6-sig.com
More from Mounting & Attaching Products