New Hybrid Fiber Laser Machine with Muratec's Punch Press Technology
Press Release Summary: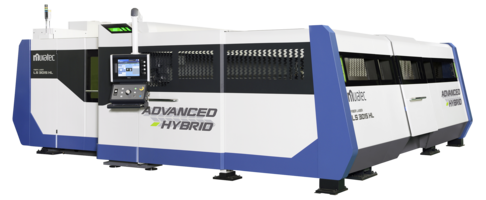 Repeat accuracy of ±0.001" and a fast traverse speed of 6,692.9 ipm
Designed for multi-tasking to increase throughput while upholding superior process quality without sacrificing flexibility
Ideal for prototype, large-volume run, short-run stamping, sample parts production and varied geometries
---
Original Press Release:
Murata Machinery USA Debuts The First Hybrid Fiber Laser Machine at FABTECH 2021.
Unmatched Multifunction Automation Combines Value-Added Processing for Lights-out Production
Charlotte, NC -- (September 23, 2021) -- Murata Machinery USA, Inc. (Muratec) introduced their latest innovation and revealed their new integrated, value-added approach to industrial automation at FABTECH 2021 in Chicago. Showcasing what humanizing automation at the core means, attendees experienced live demos on how Muratec systems can integrate, helping customers make it, move it, store it, and service it across their intralogistics and manufacturing supply chains. Muratec featured a range of world-class fabrication, turning and material handling automation, launching another Muratec first-of-its-kind fabrication machine, the Advanced Hybrid Fiber Laser (LS3015HL).
Leveraging the high-speed precision of fiber laser cutting and the accurate forming and tapping performance synonymous with Muratec's punch press technology, the new LS3015HL is the first and only combination machine available today with fiber laser at its core. Its integrated flying optics system for fiber laser cutting and upper and lower servo drives for forming maximize laser and forming capabilities, going from raw material to completed products in fewer steps. With repeat accuracy of ±0.001" and a fast traverse speed of 6,692.9 ipm, it's ideal for prototypes, large-volume runs, short-run stamping, sample parts production, and varied geometries. Its all-in-one design maximizes floor space, minimizes work-in-progress (WIP) materials, eliminates the need for secondary processes, and significantly increases throughput.
"With manufacturing labor shortages and industrial environments needing more automation to meet new customer demands, Muratec has long set the industry standard when it comes to innovation, integration, and customization," said Jeff Kalmbach, General Manager of Machine tools for Muratec. "We stretch the boundaries of automation across the manufacturing and material handling realms, expanding production capacity for lights-out manufacturing so our customers can take on more."
Engineered to deliver ultimate precision on complex parts through a single machine, Muratec also featured their MT Series CNC twin spindle lathe and integrated gantry loader. This high-productivity, "job-shop-in-a box" series was designed for multi-tasking to increase throughput while upholding superior process quality without sacrificing flexibility. Turning and milling capabilities are combined into one, and the built-in Y-axis and live tools are standard on each turret, providing the ultimate in flexibility.
Cooperation between automated storage and retrieval systems (AS/RS) and automated guided vehicles (AGV) increases productivity and "lights out capabilities" by safely automating manual, repetitive material handling, and transportation processes. Muratec demonstrated their next generation of smart AGVs and AS/RS options, helping customers realize the value-add of transporting and storing raw materials between fabrication and turning processes, and within processes.
"Helping our customers focus on long-term system performance and flexibility is key," said Scott Matlock, General Manager of the Logistics & Automation at Muratec. "Speed means nothing without reliability, keeping the system running as long and as late as our customers need to gaining an operational peace of mind from high product quality and dependable service is essential."
Muratec reinforced how automated solutions with advanced integration can bring productivity and efficiency to job and machine shops or OEM facilities. Systems are designed around their requirements, defining how parts and materials are made, moved, and stored to streamline the production process, increasing speed, consistency, and productivity.
About Murata Machinery USA, Inc
Murata Machinery USA, Inc. is a subsidiary of Murata Machinery Ltd., a pioneer and world leader in high-speed, automated turning and fabrication, logistics & material handling automation, clean factory automation, and textile machinery. Established in 1935, Murata is the sole manufacturer of Muratec brand machinery and systems that supports North American manufacturing and logistics companies across regional and global supply chains, accelerating their competitive edge through integrated automation. Manufacturing for nearly half a century with thousands of installations worldwide and first-to-market innovations, Muratec is trusted by leading global brands and suppliers including Ford, Fastenal, Boeing, Linamar, Coke and many more. Each solution uses time-tested technology and is customized to meet customers exact needs with flexibility and personalized support provided for the life of the system. For more information, visit https://www.muratec-usa.com/.
For Immediate Release:
Christine Spiegel
Strategy Marketing Director
Murata Machinery USA, Inc.
+1-704-564-7822
christine.spiegel@muratec-usa.com
More from Agricultural & Farming Products