New Hourly Production Boards Support 5S and Lean Activities
Press Release Summary: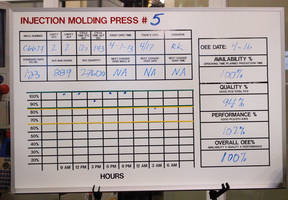 Visual Workplace's Hourly Production Boards offer at-a-glance view of goal vs. actual production. These boards help managers and team members to monitor current status of production. Units provide snapshot of operations, overview of production trends and increases accountability and problem solving tactics. Boards provide trends on production, costs, quality, safety and delivery of the shipment.
---
Original Press Release:
Track Productivity and Trends Visually with Production Boards: Visual Workplace Production Boards Support 5S and Lean Goals
BYRON CENTER, MI – Visual Workplace, Inc. offers a complete line of hourly production boards to support 5S and Lean activities. Production boards provide an at-a-glance view of goal vs. actual production. They allow managers and team members to see current status and quickly identify where production is not meeting the expectation and take corrective action.
Effective visual production boards provide:
Snapshot of current operations – goals vs. actual production
Overview of production trends
Improved accountability by allowing managers and team to track performance in a single, central place
Increase shift communication and problem-solving tactics
Key performance standards:
Production – actual vs. goal
Costs – actual vs. budgeted
Quality – conforming vs. non-conforming material 
Safety – recordable vs. non-recordable injuries
Delivery – On-time vs. past due shipment
Visual Workplace can create custom production boards quickly and affordably. Our design team can add your logo or specific information to fit your needs without paying extra. If you don't measure it, how can you improve it?
Media Contacts:
Company: Jennifer Hayes | 616.583.9400 | jennifer@visualworkplaceinc.com 
Agency: Julie Eleftheriou | 952.913.3065 | julie@longrenparks.com
ABOUT VISUAL WORKPLACE, INC.
Visual Workplace is a global provider of 5S and Lean products that help users effectively implement and sustain an organized workplace that speaks for itself, that is self-ordering, self-explaining, self-regulating and self-improving. Visual Workplace solutions are used in a wide range of industries such as automotive, consumer products, food and beverage, aerospace, retail, telecommunications, government/defense, pharmaceutical, healthcare and education, among others.
 
The heart of Visual Workplace's product line is the new Mobile In-House Sign Shop®, which enables users to make professional, custom signs quickly and easily, and at a fraction of the cost of a third party. Request a live demonstration of the Mobile In-House Sign Shop today. For more information or to request a free copy of our guide, visit www.visualworkplaceinc.com, email info@visualworkplaceinc.com, or call 1-616-583-9400.
More from Fluid & Gas Flow Equipment