New HeatWave Kits Include Power Cables and 12-Volt Battery Pack
Press Release Summary: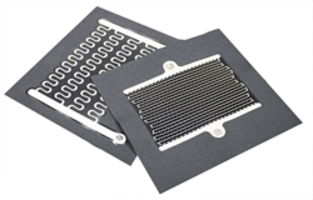 Come with two fixed stretchable resistance heaters
Offer two positive flexible and conformable coefficient heaters (PTC): but without the stretch, making
Offers the opportunity to decrease development time and costs
---
Original Press Release:
Butler Technologies Welcomes Developers to Evaluate Flexible Heater Technology with HeatWave Kits
Printed electronics manufacturer's heaters will not overheat and provide flexibility for use in wearable and textile applications
BUTLER, PA. (PRWEB) FEBRUARY 22, 2021 - Butler Technologies, Inc., already a trusted leader in printed electronics, wants to give product developers a chance to flex their creative muscles and warm up to some new designs on their own. The Pennsylvania-based manufacturer recently introduced its Heatwave Developer Kits, which provide innovators the tools to experiment and create with the Butler Technologies' flexible printed heaters.
Often, apparel, automotive, medical equipment and other companies seeking to incorporate a customizable heating solution into their products will come to a manufacturer with the general idea for how they want the heater to work within their project. The kits, instead, allow these companies' engineers to come up with their own design before ordering from Butler Technologies.
"A collaborative spirit is at the heart of our company's values," Mike Wagner, Chief Operations Officer said. "Offering our customers the opportunity to decrease their development time and costs encourages that feeling, and also provides an intimate understanding of our products."
The kits include:
Two fixed resistance heaters: Stretchable, flexible and comfortable, these heaters are ideal for wearable and textile applications that require stretching such as shirts, gloves, boots or active wear.
Two positive coefficient heaters (PTC): Flexible and conformable but without the stretch, making them ideal for applications such as outerwear (coats, skit pants, etc.) and medical wearables like heat therapy back braces and heating pads.
Power cables and a 12-volt battery pack
No matter the style, printed heaters stand above traditional wire heaters. Butler Technologies' heaters are created with a range of conductive inks printed on thermoplastic polyurethane film and can be designed to be self-regulating, meaning they maintain temperature and cannot overheat. These features — along with quality-of-life enhancements, such as being machine-washable — make them ideal for materials designed to be close to users' skin or indirectly by heating space inside of clothing.
In fact, one of the world's top apparel companies, Ralph Lauren, trusted Butler Technologies to provide warmth to America's finest athletes by using the heaters in the jackets worn by Team USA at the 2018 Winter Olympics in PyeongChang.
"Our engineers have spent years refining and testing our printed heaters, creating a superior solution to familiar wire-based solutions," Jamie Orlando, Director of Sales and Marketing said. "We're happy to share our heaters, but be sure, we'll continue to create new processes, efficient designs and breakthroughs to help businesses thrive."
To learn more or purchase a HeatWave Developer Kit for $299.95, visit the website here. For additional questions, contact Butler Technologies directly at 724-283-6656 or by email at info@butlertechnologies.com.
ABOUT BUTLER TECHNOLOGIES, INC.
Butler Technologies, Inc. is a technology driven precision screen printer specializing in printed electronics and user interface products. For nearly 30 years, the Company located in Butler, Pennsylvania has partnered with Design Engineers and companies worldwide to design, develop and manufacture new technologies using its cutting-edge digital printing, precision screen printing, electronic assembly and laser cutting capabilities. To learn more, visit http://www.butlertechnologies.com.
More from Packaging Products & Equipment