New Gruvlok SlideLOK Couplings Come with Patented Pressure-Responsive EPDM Gasket
Press Release Summary: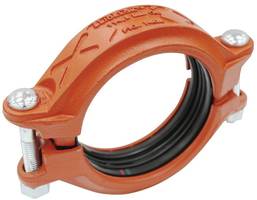 Anvil's Gruvlok® Figure 74 SlideLOK® Couplings are designed for use with roll groove or cut groove steel pipe, grooved light wall pipe and grooved-end fittings. EPDM gasket offers four separate surfaces and features a 250°F temperature rating and maximum pressure of 750 psi. The 74 SlideLOK couplings use tongue and groove design to eliminate gasket pinching.
---
Original Press Release:
Gruvlok® Figure 74 SlideLOK® is the Most Rigid Ready-to-Install Coupling on the Market
Exeter, NH, July 17, 2018 - Anvil's Made in the U.S.A. 74 SlideLOK coupling, part of its Gruvlok brand of couplings and fittings, comes with a patented pressure-responsive EDPM gasket that provides four separate sealing surfaces for added protection. It has a 250°F temperature rating and a maximum working pressure of 750 psi on roll or cut grooved carbon steel standard wall pipe.
74 SlideLOK couplings are ready for installation right out of the box and there's no need for the bolts and gasket to be removed. The SlideLOK coupling utilizes a tongue and groove design to eliminate gasket pinching, making it safe and simple. The predictive gap design allows for easy visual confirmation of correct assembly, and it is repair service friendly with Anvil's patented slide action feature.
For more information on Gruvlok Figure 74 SlideLOK couplings, visit https://www.anvilintl.com/products/74-slidelok-ready-for-installation-coupling.
About Anvil International
Anvil International is one of the largest and most complete manufacturers of pipe fittings, couplings, pipe hangers and piping support systems in the world. For more than 165 years, Anvil has provided the highest-quality pipe products and services with integrity and dedication to superior customer service. The company offers expertise and product solutions for a wide range of applications, from plumbing and mechanical, HVAC, industrial and fire protection, to mining and oil and gas. Anvil offers products and services worldwide. Its ISO 9001:2008 certified manufacturing facilities are located in PA, TN, TX, AL and RI. For more information, contact Anvil's corporate offices at 603-418-2800, 2 Holland Way, Exeter, NH 03883 or visit www.anvilintl.com.
For More Information Contact: Jessica Desrochers, Anvil International, 603-418-2827/ jdesrochers@anvilintl.com
Contact This Company Download Spec Sheet
More from Construction Equipment and Supplies