New GLAS Smart Thermostats Come with Enhanced Voice-Control Capabilities
Press Release Summary: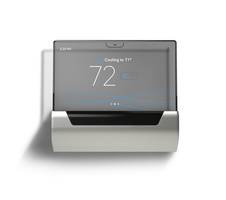 The GLAS® Smart Thermostats are now offered with Amazon Alexa and the Google Assistant capabilities. The units enable user to control functions such as temperature changes with voice using smart device. The voice capabilities allow user to check and audibly receive indoor and outdoor temperatures and set increases or decreases in thermostat temperature.
---
Original Press Release:
Johnson Controls GLAS® Smart Thermostat Now Available for Pre-Order with Expanded Amazon Alexa and Google Assistant Voice-Control Capabilities
Beautiful in form and function, GLAS creates a seamless smart home and voice-control experience, working with Amazon Alexa, the Google Assistant and Microsoft Cortana®
MILWAUKEE, Aug. 16, 2018 /PRNewswire/ -- Johnson Controls today announced that the highly anticipated GLAS smart thermostat is now available for online pre-order at glas.johnsoncontrols.com and Amazon.com.
Units will begin shipping on August 24, 2018, at which time e-commerce orders with select retail partners will commence as well. GLAS will initially be available for purchase at glas.johnsoncontrols.com, Amazon.com, Microsoft Store Online, as well as Microsoft brick-and-mortar stores in the U.S. It will cost $319.
GLAS now works with Amazon Alexa and the Google Assistant in addition to Microsoft Cortana®, allowing users to control thermostat functions such as temperature changes with their voice using a smart device connected to each service, such as an Amazon Echo or Google Home speaker. Users can ask Alexa, the Google Assistant or Cortana to adjust the temperature, and the GLAS smart thermostat can be controlled hands-free. With these enhanced voice-control capabilities, GLAS creates a seamless experience communicating with a home.
Users can easily adjust, refine and redefine their space with simple voice control. Amazon Alexa, the Google Assistant and Microsoft Cortana allow users to check for and audibly receive indoor and outdoor temperatures, set increases or decreases in thermostat temperature and obtain the current weather forecast, among other skills.
"We are very eager for consumers to get their hands on GLAS and take advantage of its leading capabilities to make their homes more connected, comfortable and convenient," said Don Albinger, vice president & general manager, building management systems, Johnson Controls. "We've worked to expand the functionality of GLAS ahead of its launch and are excited to announce that GLAS now works with both Amazon Alexa and the Google Assistant. We are confident that customers will really value these enhancements that give them greater control over their space and more insight into critical data like air quality and energy savings."
GLAS looks beautiful on any wall, and the installation process has been made simple. Before beginning, users can check if their existing HVAC configuration is compatible at glas.johnsoncontrols.com/compatibilitychecker. Then, consumers can find detailed instructional videos that take them through the complete process at glas.johnsoncontrols.com/install.
If they still need some assistance, they can also enter their zip code to find a local, prescreened home professional that can install it for them. And, Johnson Controls has partnered with HomeAdvisor—a digital marketplace that allows homeowners to match, research, and connect on-demand to the largest network of service professionals.
GLAS' beautiful design is matched by intuitive features that make a space comfortable
Designed by the same company that invented the room thermostat, GLAS leverages more than 135 years of insights in building control systems to create a thermostat with an efficient and modern perspective. It is the first smart thermostat of its kind to utilize a translucent OLED touchscreen display to control its functions. Users simply touch the screen to change the temperature, monitor indoor and outdoor air quality, track energy savings or perform other functions.
GLAS also tracks and assesses multiple aspects of air quality to ensure that occupants are consistently comfortable, knowing that a healthy home starts with the air its residents breathe. In addition to temperature, GLAS reports humidity, total volatile organic compounds (tVOCs) and equivalent carbon dioxide (eCO2) inside a home or building. When air quality falls below moderate levels, GLAS can intelligently operate a fan or ventilation equipment.
By leveraging Johnson Controls' deep experience in automation and proprietary temperature control algorithms, GLAS adapts to a user's schedule to intuitively maintain a comfortable space while it saves energy. Its automation programming is easy to understand and takes the hassle out of setting individual preferences. And, GLAS provides around-the-clock reporting of equipment run-time, a related seven-day trailing report of a user's energy savings and customizable, seven-day scheduling.
For more information, visit glas.johnsoncontrols.com.
About Johnson Controls
Johnson Controls is a global diversified technology and multi-industrial leader serving a wide range of customers in more than 150 countries. Our 120,000 employees create intelligent buildings, efficient energy solutions, integrated infrastructure and next generation transportation systems that work seamlessly together to deliver on the promise of smart cities and communities. Our commitment to sustainability dates back to our roots in 1885, with the invention of the first electric room thermostat. We are committed to helping our customers win and creating greater value for all of our stakeholders through strategic focus on our buildings and energy growth platforms. For additional information, please visit www.johnsoncontrols.com or follow us @johnsoncontrols on Twitter.
About Johnson Controls Building Technologies & Solutions
Johnson Controls Building Technologies & Solutions is making the world safer, smarter and more sustainable – one building at a time. Our technology portfolio integrates every aspect of a building – whether security systems, energy management, fire protection or HVACR – to ensure that we exceed customer expectations at all times. We operate in more than 150 countries through our unmatched network of branches and distribution channels, helping building owners, operators, engineers and contractors enhance the full lifecycle of any facility. Our arsenal of brands includes some of the most trusted names in the industry, such as Tyco®, YORK®, Metasys®, Ruskin®, Titus®, Frick®, PENN®, Sabroe®, Simplex® and Grinnell®. For more information, visit www.johnsoncontrols.com or follow @JCI_Buildings on Twitter.
Contact: 
Ryan Nolan
Global Public Relations Program Manager
Building Technologies & Solutions, Johnson Controls
Work + 1 414 524 6170
Mobile + 1 414 378 9641