New GENE-APL6 Motherboard is Designed with Dual LVDS Support for Rugged Applications
Press Release Summary: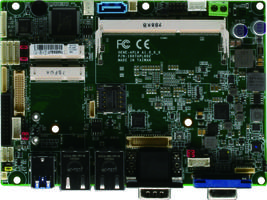 AAEON's new GENE-APL6 has a solder-up, fanless design, allowing a heat spreader to channel out heat through the chassis. The board can function through power fluctuations in unstable environments. Equipped with dual LVDS support and anti-vibration technology, the board has high noise immunity and low power consumption, as well as multiple ports and slots for flexibility. Applications include factory automation and transportation.
---
Original Press Release:
The AAEON GENE-APL6's Onboard Storage and Dual LVDS Support Put You in the Driving Seat
(Taipei, Taiwan – May 3, 2018) – AAEON, one of the world's leading developers and manufacturers of embedded platforms, launches the GENE-APL6, a rugged subcompact motherboard purpose-built for factory automation and transport applications.
Equipped with an Intel® Pentium® N4200 or Celeron® N3350 processor and DDR3L memory, the fanless GENE-APL6 features a solder-up design, which allows for the easy implementation of a heat spreader to channel heat from the CPU out through the chassis. Additional wide temperature support controls are available on request.
A wide DC input range of 9V to 36V allows the board to overcome fluctuations in power supply and continue running in the unstable environments of factory automation and in-vehicle systems. The GENE-APL6 has been further ruggedized with anti-vibration measures including onboard eMMC storage of up to 128G.
AAEON is a customer-focused company, and it responded to requests for dual LVDS support when designing the GENE-APL6. The low power consumption technology with high noise immunity is ideal for rugged applications, and an HDMI port can be installed as a custom option. Four USB ports, four COM ports, and Mini Card and mSATA expansion slots, give the board the flexibility to match its strength.
"By removing points of weakness, such as storage through expansion slots only, and by adding the features end users want to see, we've made the GENE-APL6 the strongest, most complete factory automation and in-vehicle motherboard on the market," said Julie Huang, AAEON embedded computing division product manager.
About AAEON
Established in 1992, AAEON is one of the leading designers and manufacturers of professional intelligent IoT solutions. Committed to innovative engineering, AAEON provides reliable and high quality computing platforms, including industrial motherboards and systems, industrial displays, rugged tablets, embedded controllers, network appliances and related accessories, as well as integrated solutions. AAEON also has the hardware and services for premier OEM/ODMs and system integrators, worldwide. Being an Associate Member of the Intel® Internet of Things Solutions Alliance, AAEON offers customized end-to-end services from the initial product conceptualization and board product development to mass manufacturing and after-sales service programs. Peruse AAEON's expansive line of products and services by visiting www.aaeon.com.
Related