New Gearless Speed Reducers for Critical Motion Controls and Small Power Transmissions
Press Release Summary: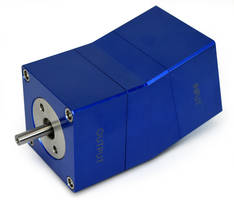 High-efficient speed reducer uses engineered traction fluid to cool and lubricate
Features gearless drive and efficient with 6-moving parts
Includes infinite ratio of 5:1, reduction of motor torque ripple, low vibration/noise level and less maintenance
---
Original Press Release:
SDP/SI Introduces New Gearless Speed Reducers with Traction Drive Technology
Highly Efficient, Traction Drive Typically Out Lasts Conventional Gearboxes and Speed Reducers
July 18, 2019 – Hicksville, NY – Stock Drive Products/Sterling Instrument (SDP/SI), a leader in providing mechanical based design, engineering, and precision manufacturing services for critical motion control and small power transmission applications is proud to introduce Speed Reducers with traction drive technology. Featuring a gearless drive, these speed reducers are highly-efficient with only 6-moving parts. Using engineered traction fluid to cool and lubricate, as the driving and driven elements interface in the drive the traction fluid regularly changes from liquid-to-solid-to-liquid, generating less heat than conventional drives.
Years of development and testing have been invested in this new technology, resulting in a product featuring infinite ratios up to a ratio of 5:1, dramatic reduction of motor torque ripple, low vibration and noise level, and significantly less maintenance than a conventional gearbox. Offered as another option to conventional gearboxes and speed reducers, the SDP/SI Traction Drive is available in standard NEMA sizes for easy mounting into new or existing applications, with optional overrunning clutch. Traction Drive NEMA size 17 (S9117T-…) and NEMA size 23 (S9123T-…) in ratios 2:1, 3:1, 4:1, and 5:1 are available as standard catalog items. Detailed product specifications are available on the website.
SDP/SI is a manufacturer of precision mechanical components and complex assemblies. "The addition of these gearless speed reducers, Traction Drives, to our product offering provides our customers a solution where a conventional gearbox or speed reducer may not be the best choice", said Sr. Development Engineer, Mike Yandolino. Traction Drive can be used in power transmission and motion applications, including medical, robotics and industrial. Yandolino continued, "Providing years of reliable operation, these highly-efficient drives offer an alternative for applications requiring precise and quiet operation. We are excited about this new technology and our ability to provide our customers the very best solutions when faced with a design challenge."
About Stock Drive Products/Sterling Instrument (SDP/SI) a Designatronics company
SDP/SI, ISO 9001:2015 + AS9100D certified, provides mechanical based design, engineering and manufacturing services for critical motion control and small power transmission applications, including aerospace, defense, medical, robotics, and industrial automation. Over 87,000 standard inch and metric small mechanical components are available for fast turnaround. SDP/SI specializes in high-quality machined parts, molded components, synchronous belt drives, precision gears and subassemblies, offering customized design. For more information go to: www.sdp-si.com
Download Press Package: https://www.sdp-si.com/press/SDPSI-Introduces-New-Gearless-Speed-Reducers-withTraction-Drive-Technology.php