New Gas Tube RF Surge Protector is Ideal for Remote Amplifiers and LNAs Applications
Press Release Summary: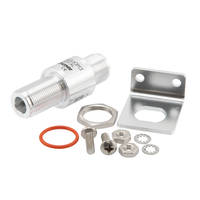 Available in SMA, N-Female and N-Male connector configurations
Features wideband operation up to 5.8 GHz
Provides protection on both connector ports, with ground lug and terminal on housing
---
Original Press Release:
New PolyPhaser Gas Tube RF SPDs Provide Cost-Effective Protection for Global Applications
Configurations Include SMA, N-Female, N-Male Connectors; All Available for Same-Day Shipping
IRVINE, Calif. – PolyPhaser, an Infinite Electronics brand and an industry-leading provider of RF and data surge protection, filtering and grounding solutions, has introduced a value-priced gas tube RF surge protector line optimized for global applications, with all configurations available for same-day shipping.
PolyPhaser's new GTH-series is a high-performance inline gas discharge tube suppressor family featuring wideband operation up to 5.8 GHz. Configurations are available with a variety of connectors to meet the specific requirements of each application, including standard and reverse polarity SMA connectors, and bulkhead N-female or N-male on one end, with a solderless crimp-style interface on the other.
Each GTH-series surge protection device (SPD) provides superior protection on both connector ports, with a ground lug and terminal on the housing for effective, convenient grounding. Protectors pass DC, making them an excellent choice for remote amplifiers, LNAs, and other applications where coax cable carries DC.
"PolyPhaser has a history of creating the highest quality RF surge protection solutions, and the new GTH gas tube components expand our capabilities into more of today's crucial applications," said Dan Rebeck, Product Line Manager for PolyPhaser. "With this line, our customers gain additional high-quality, cost-effective solutions for protecting mission-critical data."
Key features include:
Reliable performance from DC ~ 5.8 GHz
Bi-directional protection—protector will pass DC
High-quality construction
Easily replaced gas tube element
Multi-strike capability
The variety of connector options in this line helps to fit a broad range of applications, from IEEE 802.11a, 802.11b and 802.11g wireless LAN applications to ISM, MMDS, cellular, PCS and distributed antenna systems (DAS). All configurations are available today from PolyPhaser, in stock for same-day shipping.
For more information, visit PolyPhaser.com.
About PolyPhaser:
PolyPhaser leads the market with its patented RF protection solutions, specifically supporting communications systems. Based on extensive experience with multi-stage surge protection, PolyPhaser continuously expands its product offering to support the requirements of advanced network applications with technologies such as DC block, DC pass and ultra-low PIM. PolyPhaser is an Infinite Electronics brand.
About Infinite Electronics:
Based in Irvine, Calif., Infinite Electronics offers a broad range of components, assemblies and wired/wireless connectivity solutions, serving the aerospace/defense, industrial, government, consumer electronics, instrumentation, medical and telecommunications markets. Infinite's brands include Pasternack, Fairview Microwave, L-com, MilesTek, Aiconics, KP Performance Antennas, PolyPhaser, Transtector, RadioWaves, ShowMeCables, INC-Installs and Integra Optics. Infinite Electronics serves a global engineering customer base with deep technical expertise and support, with one of the broadest inventories of products available for immediate shipment.
Press Contact:
Peter McNeil
PolyPhaser
17792 Fitch
Irvine, Calif.
(978) 682-6936
Katee Schalau
Technical Content Specialist
17792 Fitch | Irvine, CA 92614
(O) 978-682-6936 | (C) 904-814-5444
[email protected] | www.infiniteelectronics.com