Hydraulic / Pneumatic / Radial Shaft Seals
New Garlock Brand Oil Seals from Emerson Bearing Boston Increase Equipment Durability
Press Release Summary: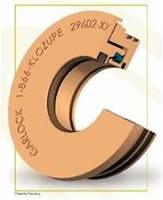 Emerson Bearing Boston's expanded line of oil seals includes Garlock brand bearing isolator style seals in metal and non metal materials. The seals offer high abrasion and chemical temperature resistance by closing the space between moving and non moving parts on machinery, reducing lubricant leak risks and damage. These bearing isolator seals can be used in automotive and engine manufacturing, off-highway project, oil refinery, and power transmission applications.
---
Original Press Release:
Emerson Bearing Boston Announces Expanded Oil Seal Line
BOSTON, MA… Emerson Bearing Boston, a bearing company catering to Original Equipment Manufacturers (OEM) and Maintenance, Repair and Operations (MRO) markets around the world, announces an expanded line of Oil Seals, specifically, Bearing Isolators.
Emerson Bearing's expanded line includes Garlock brand isolator-style oil seals, which areavailable in metal and non-metal materials, feature a single-piece design, and do not place excessive stress on shafts. Isolator-style oil seals provide an ideal solution for severe applicationsand are easier to install than inch measurement oil seals and metric oil seals.
Steve Katz, president of Emerson Bearing explained, "Essentially, oil seals close the spaces between stationary and moving parts in order to reduce the risk of lubricant release. They are used in various manufacturing applications, including those found in automotive manufacturing, engine manufacturing, off-highway jobs, oil refineries, and power transmission."
Oil seals are critical components that help keep equipment from breaking down, and allow production equipment to better withstand severe environments. Oil seals help ensure consistent, reliable operation without the risk of damage from leaks.
Isolator-style oil seals provide outstanding protection, including high abrasion resistance as well as excellent chemical temperature resistance.For example, Isolators may be used to provide electric motor bearings with an extra layer of protection against contaminants. 
Katz continued, "With the wide range of oil seals available on the market, our bearing team can provide the expert guidance needed when searching for the ideal oil seal. No matter how unusual or complex the application, Emerson Bearing will find a solution for the customer's exact needs."
For more information, visit the Product Catalog available at Emersonbearing.com or call 800-225-4587.
About Emerson Bearing Boston
Founded in 1957, Emerson Bearing Boston specializes in bearings for OEM and MRO markets throughout the world. The company provides solutions to a variety of industries including: aggregate, concrete, mining, machine tools, electric motor repair, marine, material handling, metal processing, packaging, food processing, paper converting, printing, wind/power generation, recreation, heavy construction, robotics, automation, transportation, wood products, wastewater treatment, pump, compressor and oil field.
Emerson Bearing Boston offers customers a one-stop shopping experience. With an online product catalog with over 3 million bearings - ranging in size from 3mm to tunnel-boring 15-foot-diameter giants; a vast inventory of bearings; worldwide sourcing; a fixed price program; a knowledgeable staff; same day shipping and 24/7 service, Emerson Bearing Boston has become a leading provider of bearings in the U.S. They are the sister company of Action Bearing and maintain headquarters at 201 Brighton Ave. Boston, MA. For more information, visit www.emersonbearing.com or call 800-225-4587.
Related