New GaN-Based 630-Watt Power Amplifier Operates in the Frequency of 9.4 to 9.9 GHz
Press Release Summary: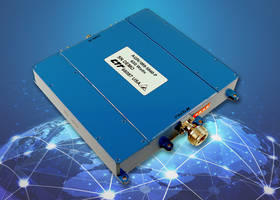 Offers 60 dB, min., small signal gain and +10 dB Noise Figure
Measures 6.17-in. (L) x 6.35-in. (W) x 0.82-in. (H)
Designed for multifunctional LEO small satellite and airborne SAR systems
---
Original Press Release:
CTT, Inc Announces a New, Compact, GaN-Based 630-Watt SSPA Designed for Multifunction SAR Systems
FEBRUARY 23, 2021, SAN JOSE, CA, - - - CTT, Inc. announces a new compact, GaN-based solid-state power amplifier (SSPA) specifically designed for – and currently operating in – multifunctional Low Earth Orbit (LEO) Small Satellite (SmallSat) and airborne Synthetic Aperture Radar (SAR) systems. CTT's latest compact SSPA designs offer 630-Watts of Pulse Power Output in a compact package. This new amplifier is engineered specifically to meet the stringent requirements imposed by many multifunction system designs 
The new SSPA operating at 9.4 to 9.9 GHz, within the 8.0 to 12.0 GHz frequency segment (X-Band), is one of the more "Application Rich" portions of the electromagnetic spectrum. Some of the most notable and highly diverse radar applications, including SAR, are being employed by commercial, military and government agencies; simulators and test equipment; and electronic defense, in multifunctional LEO SmallSat and airborne systems. SAR's unique combination of capabilities including all-weather, wide-area and high-resolution imaging is unmatched by other technologies. CTT's new power amplifier has been specifically designed for, and currently operating in, the multifunctional LEO SmallSat and airborne SAR platforms.
Model AGN/099-5860-P operates in the frequency of 9.4 to 9.9 GHz with a Pulse Power Output of 630 Watts, Small Signal Gain is 60 dB, min., and Noise Figure is +10 dB making this an attractive solution where supply power is limited. The amplifier's compact design measures just 6.17-inches (L) x 6.35-inches (W) x 0.82-inches (H), and weighs less than 2 Pounds. Higher power output is also available.
This new CTT GaN power amplifier is unique in the versatility of the GaN-based building blocks, that are at the heart of this design. CTT engineers have developed a proprietary, open architecture/common platform of GaN-based power amplifiers which relies on advanced coupler design and unique substrate material selection. The result is modular amplifiers offering efficiency and high output power. Both military and commercial configurations are benefiting from improvements in: Size, Weight, Power and Cost (SWaP-C), Higher Efficiency, Wider Bandwidth, and System Power Efficiency.
CTT, Inc., established in 1981, is a privately-held company located in Silicon Valley. The Company designs and manufactures GaAs and GaN-based solid-state microwave amplifiers and subassemblies for the domestic and international defense electronics and commercial communications markets. For additional information contact: CTT, Inc, 5870 Hellyer Avenue, Suite 70, San Jose, Calif. 95138, Phone: 408-541-0596, Fax: 408-541-0794, Web: www.cttinc.com.
Media Contact: Carl V. Tuttle
Tuttle Communications
Phone: +1-408-275-1660
e-mail: [email protected]