Polytetrafluoroethylene (PTFE)
New Functionalized Fluoropolymers with Flame Retardant Properties
Press Release Summary: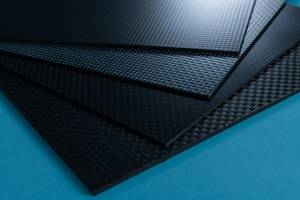 Benefits include vibration damping, zero water absorption, reduced micro-cracking and high-temperature adhesion
Low dielectric constant at high temperatures up to 260℃
Ideal for automobiles, aircraft, sports products and printed circuit boards
---
Original Press Release:
AGC Chemicals to Feature New Fluon+™ Functionalized Fluoropolymers to Improve Carbon Fiber Reinforced Thermoplastic Composites at CAMX 2021
Exton, PA., October 12, 2021 -- AGC Chemicals Americas Inc. introduces Fluon+™ Composites functionalized fluoropolymers that enhance the performance of carbon fiber reinforced thermoplastic (CFRP & CFRTP) composites. These compounds are ideal for composites applications that require a durable, lightweight material, such as automobiles, aircraft and sports products, as well as printed circuit boards requiring low transmission loss and high heat resistance.
Performance benefits include:
Wide temperature range (-200℃ up to 260℃)
Impact strength
Vibration damping
Near-zero water absorption
High-temperature adhesion
Flame retardancy
Reduced micro-cracking
Prevention of galvanic corrosion
Superior chemical resistance
Excellent dielectric properties
Low-friction surface
At CAMX 2021 booth G65, AGC will highlight the following Fluon+ fluoropolymer modified polymers for the composites industry:
Fluoropolymer-modified polyether ether ketone (mPEEK) that can be used to produce different geometries such as sheets, rods, tubes, gears, liners, wire and cable insulations, and films that better withstand demanding operational conditions. It improves processability via extrusion molding, injection molding and compression molding. It also demonstrates a lower dielectric constant than standard PEEK at high temperatures up to 260℃.
Fluoropolymer-modified polyphenylene sulfide (mPPS) that can be used to produce films, bearings, bushings, hoses and other flexible tubing and liners for the chemical processing and oil & gas industries. It is ideal for applications that require high-temperature (> 200℃) and chemical resistance as well as retained performance.
For more information, visit AGC at CAMX booth G65 or AGC's Fluon+ Composites information page. CAMX 2021 will be held October 19--21 at the Kay Bailey Hutchison Convention Center in Dallas, Texas.
About AGC Chemicals Americas Inc.
AGC Chemicals Americas is a wholly owned subsidiary of AGC Inc., a $14.6 billion multinational corporation and one of the world's largest manufacturers of glass, electronic displays and chemical products. The company was formed in 2004 through the merging of sister companies Asahi Glass Fluoropolymers and AGA Chemicals. Headquartered in Exton, Pennsylvania, including a state-of-the-art technology center, AGC Chemicals Americas maintains manufacturing operations in nearby Thorndale, Pennsylvania, a satellite sales office in Sao Paulo, Brazil, and warehouses located throughout North America. www.agcchem.com
Media Contact:
Lisa Goetz
Schubert b2b
lgoetz@schubertb2b.com
+1-610-269-2100, Ext. 244
Contact This Company Download Spec Sheet
More from Materials