DC to AC Power Supplies (Inverters)
New FREEDOM XC PRO Marine Available in 2000 and 3000 W Models
Press Release Summary: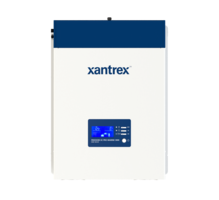 3000-watt model comes with a 150-amp battery charger weighs 18.5 lbs.
2000-watt model features 100-amp battery charger
Offers full output in high temperatures and operation control via ignition key
---
Original Press Release:
Xantrex Adds More Advanced and Powerful Marine Models to The FREEDOM XC Inverter/Charger Family
Burnaby, British Columbia – Feb. 11, 2021 – (Marine NewsWire) Xantrex, a subsidiary of Mission Critical Electronics (MCE) and a leading manufacturer of power inverters and solar panels, today announces the introduction of two new FREEDOM XC PRO Marine models, continuing the evolution of the most popular and highest selling inverter/charger brand.
The new compact and lightweight inverter/chargers pack a host of features including 50A transfer relay* and dead battery charging; the ability to charge any battery chemistry including lithium ion and NMEA 2000 communications. The NMEA 2000 communications allows the inverter/charger to integrate with other compliant devices, enabling it to be monitored and controlled via a single Multi Function Display (MFD) along with the other compliant onboard connected devices.
The new FREEDOM XC PRO Marine has set a new benchmark in terms of power density and features and comes in both 2000-watt and 3000-watt models. The 3000-watt model which comes with a 150-amp battery charger weighs only 18.5 lbs. making this inverter/charger the lightest and smallest in its class. The 2000-watt model features a 100-amp battery charger. Both models can surge to two times their rated power for five seconds, another benchmark for inverters in this topography. Other key features include full output in higher temperatures, operation control via ignition key, and monitoring and control via Bluetooth app available on both iOS and Android.
Both models are certified to UL458 with marine supplement and meet FCC Class B. They are tested for multiple environmental stresses including moisture, corrosion resistance, and salt and fog spray.
Click here to view the FREEDOM XC PRO Marine installation video.
Click here to download an image.
Image caption: FREEDOM XC PRO Marine
Click here to download the datasheet and other technical documents.
50A transfer relay is only available on the 3000W model.
About Xantrex
The Xantrex brand, is one of the most successful and popular brands of onboard AC power technology. Xantrex products are used in a variety of applications in the marine, RV, military, construction, EMS, bus, work service vehicle and commercial truck markets. Xantrex ensures its products are put through extensive reliability testing and certifies its products to comply with various regulatory standards to meet or exceed the applicable requirements for safety, quality, efficiency and environment. With more than three decades of design, engineering and manufacturing experience, Xantrex power solutions offer an enviable mix of advanced technology and unmatched bankability.
About Mission Critical Electronics (MCE)
Headquartered in Huntington Beach, Calif., MCE provides specialized products for critical systems in a wide variety of applications operating under the leading brands Kussmaul Electronics, Newmar Power, ASEA Power Systems, Power Products and American Battery Charging. These brands have been built on the strength of their team and their ability to connect with customers. MCE takes great pride in translating their customers' needs into the highest quality products and solutions available in the markets it serves. MCE delivers those products and solutions with unmatched level of responsiveness.
Media Contact:
Mitul Chandrani, Director of Marketing at Xantrex
mitul.chandrani@xantrex.com
+1 604.422.2714 
Related