New Frame Enables Use of MEN Micro Box Computers in Standard 19" Systems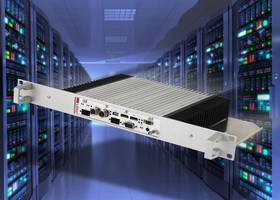 BLUE BELL, Pa. – MEN Micro Inc., a world-renowned provider of embedded computing and I/O solutions for mission-critical industrial, mobile and harsh environment applications, now offers an insertion frame that enables the company's box PCs to be easily incorporated into a standard 19" rack mount system.



The 1U, lightweight frame holds many of the company's expansive line of box PCs, whether the system is designed for mobile, wireless, storage, fieldbus or graphics functionality.  Compatible units include MEN Micro's BC50M and BC50I as well as customer-specific models.



The frame assembly comes with two heat sinks attached to the box PC for fanless, conduction-cooling enabling operation in temperatures from -40°C to +70°C, and up to +85°C for up to 10 minutes.  Frame dimensions are 483 mm (W) x 43.6 mm (H) x 237 mm (D), accommodating box PCs measuring 250 mm (W) x 44.1 mm (H) x 220 mm (D).



MEN Micro's box PCs are built upon a flexible, modular concept in terms of processor performance, interface and PSU types.  Units are available with various AMD or Intel multi-core processor architectures as well as flexible I/O configurations to suit specific application needs.  The box PCs, which feature soldered components, are compliant with EN 50155 for railway use as well as prepared for e1 certification for automotive applications to withstand severe shock and vibration.



Pricing for a 19" Insertion Frame is $402 USD.  Delivery is six to eight weeks ARO.



For additional information, visit https://www.menmicro.com/products/05BC01-.html or contact Stephen Cunha, MEN Micro Inc., Phone: 215-542-9575; Fax: 215-542-9577; E-mail:

[email protected]

.



Read our news: http://feeds.feedburner.com/MenMicro

Follow us: http://twitter.com/MENMicro

Become a fan: http://www.facebook.com/MENMicro

Watch the latest videos: http://www.youtube.com/user/MENGermany

Learn our markets: http://www.slideshare.net/MENmicro



UPCOMING TRADESHOW: NUFAM; Sept. 26-29, 2013; Karlsruhe, Germany



READER SERVICE INQUIRIES: Please forward all reader service inquiries to Stephen Cunha, MEN Micro Inc., E-mail:

[email protected]

.



About MEN Micro Inc.

Since its founding, MEN Micro has focused on innovation, reliability and flexibility to develop standard and custom computing solutions that employ the highest technology levels. The company's computing solutions are used in harsh mission- and safety-critical environments found in the transportation (rail, road, air, sea) and industrial (automation, power & energy, medical, mining) markets.



With more than 250 employees worldwide, MEN Micro provides a robust offering of highly reliable embedded COTS boards, rugged COMs, scalable box PCs, safe computers and supporting devices widely used in extreme environmental conditions.



In addition to its full customization support, the company's core competencies include x86 and RISC processor architectures, development rules for safe applications, analog I/O design, FPGA technology and Windows, Linux and real-time operating systems as well as RAMS and obsolescence management.



The company is certified to ISO 9001, ISO 14001 (environment), EN 9100 (aerospace), IRIS (railway) and e1 (road traffic) quality management systems and is a member of several industry associations, including VITA and PICMG.