New Force Measurement Systems Released for Testing Applications
Press Release Summary: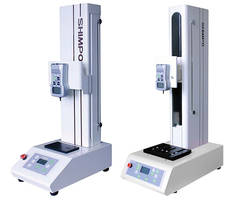 The FGS-100E and FGS-VC are two models of motorized force test stands now being offered by Paul N. Gardner Company, Inc.  for measurements in testing applications. The FGS-100E model features an all-steel construction, 7-button keypad with safety stop and 100-230 VAC power capabilities. The FGS-VC model has a servo gear head and ball screw, adjustable speed control and a comparator function which provides instant pass or fail results.
---
Original Press Release:
Introducing the New Motorized Force Test Stands
Force Measurement Systems Capable of Handling Precise Testing Applications
For Immediate Release: New Motorized Force Test Stands available in two models: FGS-100E and FGS-VC.
FGS-100E Models
These Motorized Force Test Stands combined with the Shimpo line of superior quality force gauges, create a complete force measurement system capable of handling the most precise testing applications. The test stand's all steel construction makes them remarkably rugged while performing with precision, providing the reliability to tackle a multitude of applications.
Features
Simplified 7 button key-pad with emergency safety stop provides a user-friendly platform that does not require extensive training
Compatibility with nearly all manufacturers' force gauges enables flexibility in testing applications
Field selectable inches/min or mm/min allows user preference or to change as needed per test requirement
Large 100-230 VAC power capability provides flexible installation; eliminates power transformer
Quick-adjust manual upper and lower limits eliminates set-up time for the next test
Compact, modular design reduces weight, footprint and cost of stand
Item Nos. FO-171051, FO-171071
FGS-VC Models
The FGS-VC Series Motorized Force Test Stands are designed to provide accurate and repeatable results for tension, compression, break and cycle performance tests in various applications. A key feature is a SHIMPO exclusive: a precision made servo gear head and ball screw for precise movement control. The large measurement area plus tall 15.75" (400 mm) travel distance allow large, unique parts to be tested. A precise and consistent 0.40-15.75"/min (10-400mm/min) adjustable speed provides for slow tests or quick cycle load testing.
Features
User friendly controls and software allows hands off operation, reduces training time, user errors and speeds up tests
The wide speed range means only one stand required for a majority of testing needs
Easy install force gauge bracket allows for multiple test ranges to be quickly used on one stand
FGT-VC software provides graphing analysis of one or several tests. Data can be stored for later analysis.
Comparator function provides instant pass/fail result allowing for usage on production lines
Combining with FGE or FGV force gauges with the stand, overload limit communication is achieved, eliminating potential to damage the gauge accidentally during a test
Item No. FO-171081
Contact This Company Download Spec Sheet
More from Paints & Coatings