New Fluorophores Can Construct Compounds When Fluorescence Is Activated
Press Release Summary: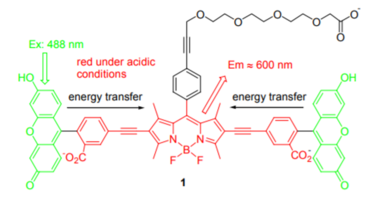 Brighter and more photostable than fluorescent proteins
Offers small size and ease of synthesis
Applications include bioanalysis, environmental monitoring, clinical diagnosis and fluorescence staining
---
Original Press Release:
Alfa Chemistry Releases Chemical Fluorophores for Bioanalysis, Environmental Monitoring, Clinical Diagnosis and Fluorescence Staining
Earlier this month, the management of Alfa Chemistry announced the launch of varieties of chemical fluorophores for researchers worldwide. Those newly released fluorophores, including BODIPY fluorophores, cyanine fluorophores, rhodamine fluorophores, and fluorescein fluorophores, can be widely used for bioanalysis, environmental monitoring, clinical diagnosis, fluorescence staining, as well as other application scenarios.
When compared with other fluorophores, chemical fluorophores reserves key advantages in terms of small size and ease of synthesis. In addition, they also have the ability to construct compounds when fluorescence is activated by chemical or biochemical processes. Currently, various types of fluorophores and their derivatives are widely studied and constantly modified to achieve better application value.
"Chemical fluorophores prove to be substantially brighter and more photostable than fluorescent proteins. Thus, they are extensively employed in the biologic field to detect and visualize different phenomena," says a representative from Alfa Chemistry. "Moreover, chemists and biochemists have developed techniques to couple chemical fluorophores with fluorescent proteins, allowing labeling chemistry to be carried out in more complex biological environments such as live cells and tissues."
Below are the chemical fluorophores provided by Alfa Chemistry:
As novel materials, BODIPY fluorophores and their derivatives have been widely used in environmental monitoring, biological sciences, and other fields. Some specifically functionalized BODIPY fluorophores are suitable for the selective analysis and detection of extremely small amounts of organic or inorganic ions and molecules. The BODIPY fluorophores offered by Alfa Chemistry covered: BDOIPY-Osu (CAS 1025119-04-3), Azido-Bodipy-FL-510 (CAS 1048369-35-2), Bodipy Isothiocyate (CAS 1349031-04-4), BDP FL azide (CAS 1379771-95-5), BDP FL maleimide (CAS 773859-49-7), BDOIPY (CAS 878888-13-2), Allyl-Bodipy-FL-510 (CAS 926012-31-9), etc.
Cyanine fluorophores and their derivatives are helpful in exploring dye-sensitized solar cells, textiles, probes, and other applications. Some of the cyanine fluorophores are listed here: Sulfo-Cy3-YNE (CAS 1010386-62-5), Cyanine3 NHS ester (CAS 1032678-38-8), Sulfo-Cy5 carboxylic acid (CAS 1121756-16-8), Cy3.5 carboxylic acid (CAS 1144107-79-8), Cy5 alkyne (CAS 1223357-57-0), Sulfo Cy5.5 Carboxylic acids(ethyl) (CAS 210892-23-2), N-(hydroxy-PEG2)-N'-(azide-PEG3)-Cy5 (CAS 2226235-96-5), and Cy2 Carboxylic acids (CAS 260430-02-2).
Rhodamine fluorophores and their derivatives have been used in metal ion detection, analytical chemistry, PH spectral probe, and other fields. Alfa Chemistry provides varieties of rhodamine fluorophores, including Azido-ROX (CAS 1048022-18-9), Azido-R6G (CAS 1144503-47-8), TAMRA-PEG4-Alkyne (CAS 1225057-68-0), TAMRA-PEG3-Azide (CAS 1228100-59-1), Dy-560 NHS ester (CAS 178623-13-7), TAMRA-Azide-PEG-Biotin (CAS 1797415-74-7), 6-Carboxyrhodamine 6G hydrochloride (CAS 180144-68-7), Rhodamine 101 inner salt (CAS 41175-43-3), Sulforhodamine 101 (CAS 60311-02-6), Rhodamine 123 (CAS 62669-70-9), etc.
Fluorescein Fluorophores
Fluorescein isone of the most widely used fluorescent dyes in modern biology, biochemistry, and medical research. Due to special photochemical properties, fluorescein fluorophores are commonly used in ion recognition probes, biomarkers, and other research fields. At Alfa Chemistry, customers can easily access 5-DTAF (CAS 102417-95-8), 5-Dodecanoylaminofluorescein (CAS 107827-77-0), Fluorescein-PEG2-azide (CAS 1146195-72-3), 6-HEX dipivaloate (CAS 1166837-63-3), Carboxy-DCFDA N-succinimidyl ester (CAS 147265-60-9), and many other fluorescein fluorophores.
Please visit the website https://www.alfa-chemistry.com/products/chemical-fluorescence-probe-153.html to learn more.
About Alfa Chemistry
Being market-oriented and customer-centered, Alfa Chemistry has grown to be a chemical vendor widely recognized by pharmaceutical companies, universities, and research institutions worldwide. With unstopping efforts, the company now supplies a comprehensive range of chemicals and materials, including but not limited to surfactants, ionic liquids, functional polymers, MOFs, polymer-stabilizer, pheromones, organic silicon, semiconductor materials, reagents, and graphene.