New Flo-Trol CD900 Flow Control Valve Available In Five Different Sizes (3/8" thru 1") and 58 Different Flow Ranges (0.25 GPM to 30 GPM)
Press Release Summary: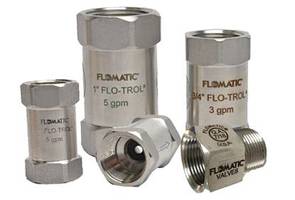 NSF/ANSI 61 and 372 certified model features a stainless steel body
Include max pressure of 200 PSI and max temperature of 180°F (82°C)
Designed to give constant flow over a wide pressure range
---
Original Press Release:
Flomatic® Introduces the New Flow Control Valves Flo-Trol® CD900 with a Stainless Steel Valve Body
March 12th, 2019 Glens Falls, NY – Flomatic® is pleased to announce the release of their new constant flow control valve Flo-Trol® Model CD900 with a stainless steel body.
The Flomatic® Flo-Trol® automatic flow control valves are designed to give constant flow over a wide pressure range. The valve design has no moving part; rather a self-cleaning flexible orifice that varies in size with applied pressure so that a constant flow rate is maintained. Flow rates are maintained to within ±15% between 15 and 125 psi.
The Flo-Trol® Model CD900 is available in five different sizes (3/8" thru 1") and 58 different flow ranges (0.25 GPM to 30 GPM). Additional specifications include a Pressure Max of 200 PSI and Max Temperature of 180°F (82°C)
The Flo-Trol® CD900 is NSF/ANSI 61 & 372 certified and covered with a 3 year warranty.
For more than 85 years, Flomatic® has been changing the industry valve and leading the market. Manufacturing a full line of check valves for the water and wastewater market, ranging from 1" – 36". Flomatic's products have been installed in a wide variety of applications with excellent results. Flomatic® is an ISO 9001 and 14001 certified company with comprehensive manufacturing processes with AIS compliant available products.
For more detailed information on Flomatic's new Flo-Trol® Model CD900 flow control or to obtain a copy of the new 2019 condensed valve catalog, contact Daniel Hidalgo at 518-761-9797 ext.203 or visit our website at:https://www.flomatic.com/
More from Fluid & Gas Flow Equipment