New Fixture Shallow/Fixture Deep Boxes Offer Corrosion-Resistant Aluminum Alloy Material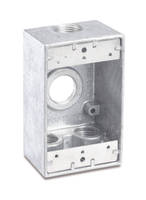 Memphis, Tenn. (January 29, 2009) - The industry's first corrosion-resistant Fixture Shallow/Fixture Deep (FS/FD) box is now available from Thomas & Betts. Created with a Corrostall(TM) Aluminum Alloy, FS/FD boxes are ideal for harsh environments that can contain salt, moisture, harsh chemicals and extreme temperatures.

Corrostall Aluminum Alloy goes beyond any other product to create a waterproof sealer that protects machinery from rust, electrical issues, mold and other corrosion that is commonly found in environments that require wash downs, such as food, chemical and pharmaceutical plants.

"By offering a product that takes corrosion resistance to the next level, Thomas & Betts is continuing to offer quality products that have a more effective and longer life span than that of the competitor," said Gary Clarke, product manager for Thomas & Betts. "The Corrostall Aluminum Alloy is the most durable option out there for FS/FD boxes, and we're pleased to be the first to bring this to the market."

Because they do not rust or damage easily, FS/FD boxes made of Corrostall Aluminum Alloy will allow production to run smooth and on time, relieving worries of costly down time and repair time. The durable, corrosion-resistant Corrostall Aluminum Alloy also offers enhanced thermal conductivity.

For more information about Corrostall Aluminum Alloy, please visit www.tnb.com or contact a Thomas & Betts sales representative by calling (800) 816-7809.

About Thomas & Betts
Thomas & Betts Corporation (www.tnb.com) is a leading designer and manufacturer of electrical components used in industrial, commercial, communications and utility markets. In addition, the company is a leading producer of commercial heating and ventilation units and utility transmission structures. Headquartered in Memphis, Tenn., the company has manufacturing, distribution and office facilities worldwide. Thomas & Betts reported revenues of $2.1 billion in 2007.

More from Mechanical Components and Assemblies