New Face Masks from Amcor Meet General Purpose-Use Requirements
Press Release Summary: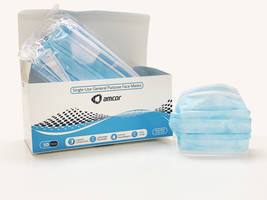 Offer non-woven inner and outer layer
Come with melt-blown middle layer
Helps in slowing the spread of COVID-19
---
Original Press Release:
Amcor Adds Face Masks to Healthcare Product Portfolio
ANN ARBOR, Mich., November 19, 2020 - In the wake of the COVID-19 pandemic, Amcor Rigid Packaging (ARP) is expanding its healthcare product portfolio to include general-purpose face masks. After piloting the assembly for employee use, ARP expanded production to support its customers. Face masks are a critical tool in slowing the spread of COVID-19, according to the Centers for Disease Control and Prevention (CDC).
"Our teams quickly rallied, establishing the necessary skills, capability and expertise to assemble face masks," according to Greg Rosati, Vice President of Healthcare for ARP's Specialty Container business. "After first addressing the health and safety of our employees, we identified an opportunity to extend the offering to support our customers who have similar values and safety protocols in place."
ARP is assembling the general-purpose face masks* at its Millville, N.J. facility. Securing its own supply of high-quality masks helps ensure Amcor colleagues continue to safely produce essential products without interruption. Expanding availability demonstrates ARP's commitment to customers and expands capabilities and product offerings in the healthcare space.
The face masks meet general purpose-use requirements with a triple layer consisting of a non-woven inner and outer layer, and a melt-blown middle layer.
ARP has made a significant investment which includes the installation of an assembly line, infrastructure modifications, inventory of production materials, and related costs for design, quality, and packaging.
About Amcor
Amcor is a global leader in developing and producing responsible packaging for food, beverage, pharmaceutical, medical, home- and personal-care, and other products. Amcor works with leading companies around the world to protect their products and the people who rely on them, differentiate brands, and improve value chains through a range of flexible and rigid packaging, specialty cartons, closures, and services. The company is focused on making packaging that is increasingly light-weighted, recyclable and reusable, and made using a rising amount of recycled content. Around 47,000 Amcor people generate US$12.5 billion in sales from operations that span about 230 locations in 40-plus countries.
www.amcor.com | LinkedIn | Facebook | Twitter | YouTube
*This product is not FDA cleared or approved. It has been authorized by FDA under an EU for use as source control by the general public as well as by healthcare professionals in healthcare settings as to help prevent the spread of the COVID-19 pandemic. This product is authorized only for the duration of the declaration that circumstances exist justifying the authorization of the emergency use of medical device, including alternative products used as medical devices, during the COVID-19 outbreak, under section 564(b)(1) of the Act, 21 U.S.C. § 360bbb(b)(1) unless the authorization is terminated or revoked sooner.
More from Printing & Duplicating Equipment