New ESP Series Microwave Antennas are Suitable for Unlicensed Band Applications
Press Release Summary: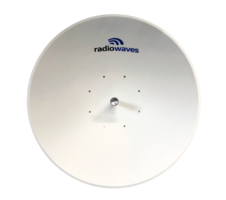 The ESP Series Microwave Antennas are offered in 2, 3 and 4-ft configurations. The units come with improved Front-to-Back ratio and isolation to increase immunity. These antennas are designed with robust and rugged design and deliver good side lobe performance.
---
Original Press Release:
RadioWaves Launches New ESP Antenna Line
New Parabolic Line Ideal for Unlicensed Band Applications
NORTH ANDOVER, Mass. – RadioWaves, a leading provider of high-quality microwave antennas and accessories, has released the Enhanced Standard Performance series parabolic line.
The ESP series offers a full portfolio covering all unlicensed bands, providing the highest gain in the industry. ESP antennas are available in 2, 3 and 4-foot configurations and come fully assembled from the factory. Boasting excellent side lobe performance that exceeds industry standard, the ESP series requires minimal post installation maintenance, needing only a single tool for mounting.
"Congestion in the unlicensed band has continued to grow as 4G, 5G, Wi-Fi and other technologies have become more pervasive," said Ken Izatt, RF Product Manager for RadioWaves. "These ESP antennas improve the ability to design and deploy uncoordinated point-to-point links in the unlicensed band, offer higher gain, improved Front-to-Back ratio and isolation to improve noise immunity."
Product features include:
Widest selection of frequency bands available
Best throughput for unlicensed band deployment
Lowest interference solution
Excellent side lobe performance
Rugged and robust design
Improved adjustment capability (single tool required)
7-year warranty
Select RadioWaves ESP series part numbers are in-stock and available for immediate shipment.
For detailed information on these products, please visit www.radiowaves.com.
For inquiries, RadioWaves can be contacted at +1-978 459-8800.
About RadioWaves:
RadioWaves offers a diverse product range of high-quality microwave antennas ranging from 1.3 GHz to 86 GHz for Point-to-Point and Point-to-Multipoint applications supporting all unlicensed and licensed band requirements. Applications for RadioWaves' products include telecommunications backhaul, WiMAX broadband wireless networks, ISM, LMDS, broadcast, and enterprise applications. RadioWaves is known globally for their high performance, reliable construction, design and flexible delivery capabilities. RadioWaves is an Infinite Electronics brand.
About Infinite Electronics:
Infinite Electronics is a leading global supplier of electronic components serving the urgent needs of engineers through a family of highly recognized and trusted brands. Our portfolio brands are specialists within their respective product set, offering broad inventories of engineering-grade product, paired with expert technical support and same day shipping. Over 100,000 customers across a diverse set of markets rely upon Infinite Electronics to stock and reliably ship urgently needed products every day
Press Contact:
Peter McNeil
RadioWaves
17792 Fitch
Irvine, CA
(978) 682-6936 x 1174
More from Packaging Products & Equipment