New ErgoFlex Abrasive Discs Designed for Smooth Weld Blending on Flat and Curved Surfaces
Press Release Summary: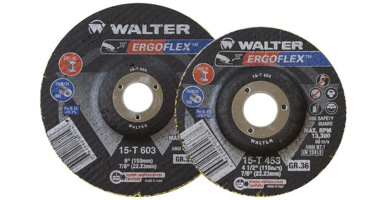 Walter Surface Technologies presents the ErgoFlex™ abrasive disc with Cyclone™ technology. It provides a better comfortable working angle, along with cleaner and quieter grinding operations. The ergonomic abrasive disc is ideal for heavy manufacturing, pipeline construction, metal fabrication and grinding operations. The disc comes with a higher abrasive grain blend which removes the material with minimal gouging risk.
---
Original Press Release:
Walter Surface Technologies' New ErgoFlex Abrasive Discs with Cyclone Technology Transform Grinding Operations
Windsor, CT June 13 th, 2018 – Walter Surface Technologies, the global industry leader in surface treatment technologies, has just unveiled its new ErgoFlex™ abrasive disc—a safer, more ergonomic, equally powerful alternative to traditional grinding wheels.
Combining a type 29 disc design and Walter's proprietary Cyclone™ technology, ErgoFlex™ is designed for extremely smooth weld blending on both flat and curved surfaces. It allows for a more comfortable working angle than type 27 depressed center grinding wheels, along with cleaner, quieter grinding operations. With an aggressive 36 grit or higher abrasive grain blend, ErgoFlex™ removes material fast with minimal gouging risk.
"For manufacturing professionals looking to balance safety, ergonomics, and productivity, ErgoFlex™ is the perfect solution," says Marc Brunet-Gagné, Product Manager of Bonded Abrasives at Walter Surface Technologies. "ErgoFlex™ offers the same power and speed as traditional grinding wheels, but with 95% less dust, 50% less noise, 50% less vibrations, and better ergonomics. It's also less likely to gouge materials, thus increasing efficiency and cost savings. "
Designed for heavy manufacturing, pipeline construction, metal fabrication, and other industrial needs, ErgoFlex™ is suitable for use in a wide range of grinding operations including grinding welded steel and stainless steel, heavy grinding, weld removal, and beveling.
ErgoFlex™ abrasive discs with Cyclone™ technology are now available. For more information, visit walter.com.
About Walter Surface Technologies
Walter Surface Technologies provides innovative solutions for the global metal working industry. From high performance abrasives, power tools and tooling to industrial parts washing systems, cleaners, degreasers and lubricants Walter focuses on helping its customers work better. Founded in 1952, the company is established in 7 countries throughout North America, South America and Europe. International headquarters is in Montreal and U.S. headquarters is located in Windsor, Connecticut. Key certification and awards include ISO 9001: 2008, Wall Street Journal Award; Deutscher Material Preiz; American Eagle Award; CleanTech Cleaning Technology Award.
Press Contact
Walter Surface Technologies
Jonathan Rinaldi
Marketing Communication Specialist
jrinaldi@walter.com
More from Communication Systems & Equipment