New Encoders Withstand Hard Shocks and Strong Vibration
Press Release Summary: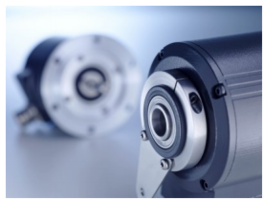 Large encoders such as HOG 16/22/28 are used for maximum speed limit monitoring at drive shafts under most difficult conditions
Immune to electromagnetic fields emitted by live, unshielded cables
Delivers incremental position signals for HTL or TTL via serial digital interface such as SSI or fieldbus interface
---
Original Press Release:
Not Spoilt for Choice - HeavyDuty Encoders in Crane and Lifting Applications
Baumer Hübner has established the class of extraordinarily resilient and reliable HeavyDuty encoders and offers a broad portfolio. Manufacturers of cranes and hoists are among the most frequent users of such sensors. And for good reason: These applications are most demanding and here they can play to their strengths - robustness, precision, resistance and longevity.
Crane installations are the elephants in the animal kingdom of machinery - not only for being real heavyweights themselves, but also for performing hardest work day in and day out, often under harsh conditions. They withstand dust on construction sites. They resist salt water and wind in ports. They are exposed to the elements and operate in hot summer as well as in deepest winter. Those who are not tough enough have no chance to survive. And what applies to the overall system also applies to its components, such as sensors monitoring speed and angular positions at drives or machine shafts – the rotary encoders. This is the reason why HeavyDuty encoders are installed in many crane systems and giant hoists.
HeavyDuty means "heavy-duty". In terms of rotary encoders, however, the term implicates much more than thick-walled housings and corrosion protection. HeavyDuty is the encompassing performance promise: These sensors perform their work reliably for a long time, never letting users down. Such a performance promise goes together with very specific requirements that rotary encoders must meet in order to really deserve the hallmark "HeavyDuty".
What makes HeavyDuty encoders heavy duty?
For many years, encoders at cranes and heavy hoists must withstand hard shocks, strong vibration or shaft load without losing their functionality. Therefore, mechanical robustness is key. A thick-walled, robust housing is of course a help, but just the beginning. Solid and largely spaced bearings at both shaft ends must compensate axial and radial loads; furthermore all inside components must be protected by a shock and vibration-resistant design. HeavyDuty encoders must be immune to electromagnetic fields emitted by live, unshielded cables. Corresponding shielding of the encoder inside electronics must protect against destruction and prevent signal errors. Electrical insulation is also required for draining shaft currents. And, bearing lubrication may get burnt which results in bearing destruction.
Another important point is tightness. In view of the application environment of HeavyDuty encoders - often marked by dust, dirt and moisture – protecting seals at critical, neuralgic points are a must: shaft and electrical connections. In parallel, seals are a good protection against corrosion by salt water or chemicals. And last but not least, HeavyDuty encoders must be as precise as their "little brothers", industrial sensors.
Finally, their task is high-precision performance at drives and generators. Doing so calls for reliable delivery of precise signals, since even minor measuring errors may have significant, maybe even life-threatening consequences, for example when lowering down loads weighing several tons.
Absolute, incremental and with connection flexibility
Selection requires a fundamental decision in the application: Is an incremental or absolute encoder required? Baumer Hübner offers a broad portfolio for both application areas, such as incremental encoders HOG 10 / POG 10 that have been reliably performing in crane installations for many years and are considered as the reference for HeavyDuty encoders. Or absolute encoders HMG 10 / PMG 10 which among other things become ever more important in crane applications thanks to exact position output via Profinet. Since incremental signals are also required for absolute encoder speed feedback in addition to the absolute position absolute HeavyDuty encoders deliver incremental position signals, for example as HTL or TTL, via serial digital interface such as SSI or fieldbus interface. Some product variants even integrate a speed switch for limit speed information via switching output.
There are various mounting options, whether as hollow shaft designs (through or non-through) cone shaft or solid shaft mount with optional EURO flange B10. If required, HeavyDuty encoders, speed switches and tacho generators can be combined in one robust, space-saving unit for receiving varied signal types all at once measured at one drive shaft. Large encoders such as HOG 16 / 22 / 28 by Baumer are used for maximum speed limit monitoring at drive shafts under most difficult conditions, such as in coal dust, salty air or in the burning heat of steel mills.
Quick, energy-efficient lifting and positioning of loads weighing tons with millimeter precision- HeavyDuty encoders at crane installations and hoists provide users with the control information required to get the job done. And this even under toughest conditions, with long-year reliability and without losing precision.
You like to find out more? The HeavyDuty experts at Baumer will be happy to provide you with information.
The Baumer Group is one of the worldwide leading manufacturers of sensors, encoders, measuring instruments and components for automated image processing. Baumer combines innovative technologies and customer-oriented service into intelligent solutions for factory and process automation and offers an unrivalled wide technology and product portfolio. With around 2,700 employees and 39 subsidiaries in 19 countries, the family-owned group of companies is always close to the customer. Baumer provides clients in most diverse industries with vital benefits and measurable added value by worldwide consistent high quality standards and outstanding innovative potential. Learn more at www.baumer.com on the internet.
Contacts:
Baumer MDS GmbH
Andreas Schulz
Phone: +49 7771 64740
anschulz@baumer.com
www.baumer.com
Related